This project aims to enhance and interpret the natural heritage of the coalfields area at a landscape scale, to deliver biodiversity benefits and support local regeneration. We always need volunteers to support our projects, also run a varied programme of community events.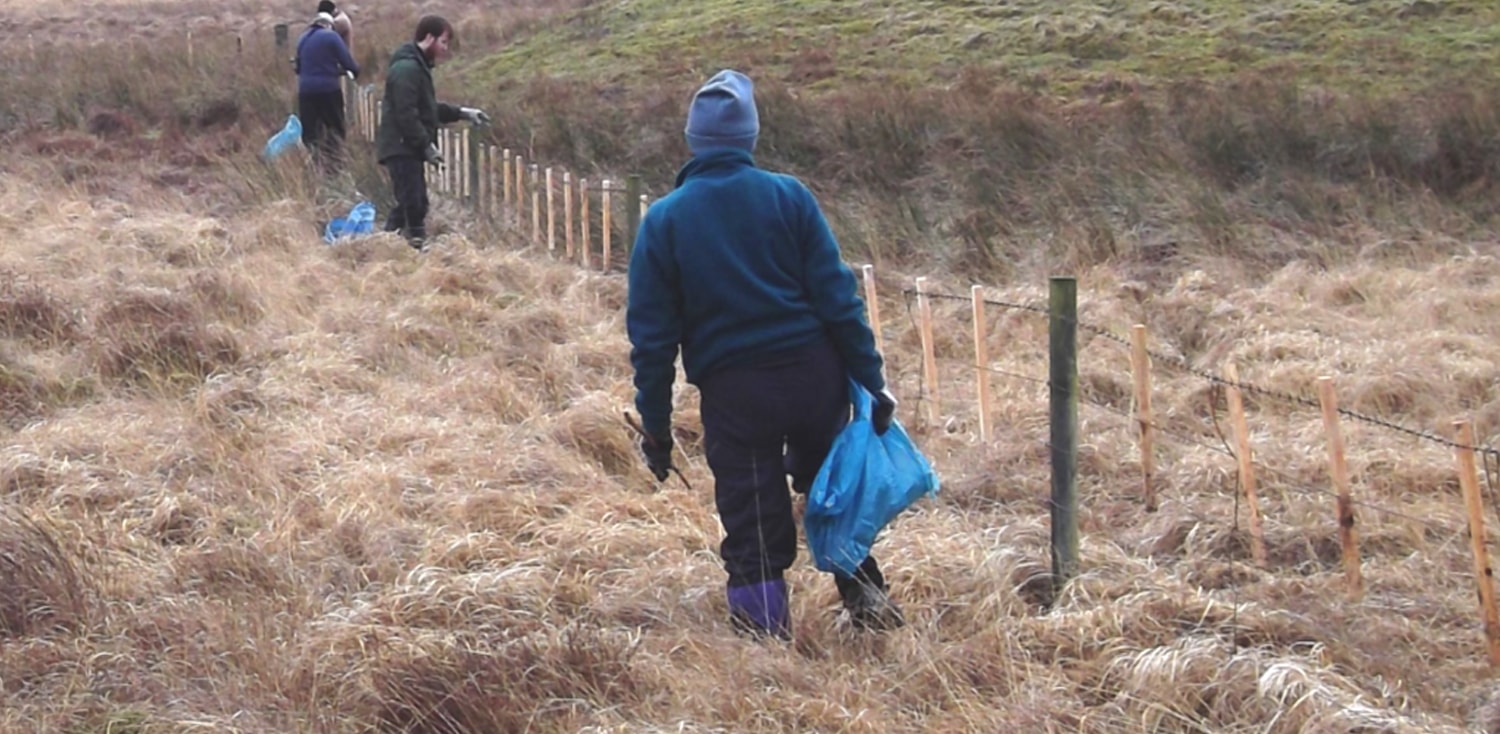 Fence markers for Grouse and Sitka spruce removal - © East Ayrshire Coalfield Environment Initiative (CEI)
East Ayrshire's coalfield region is a landscape of contrasting land uses. The area includes a range of wetland, moorland and bog habitats, including blanket bog and lowland raised bogs which provide specialised habitat for biodiversity.
While the bog habitats in the area represent some rich areas for wildlife, many have been damaged by drainage and fragmented by other land uses and this limits their value. Initial work to restore and enhance bog habitats has enabled improvement and provided some benefit to the biodiversity of the region but much more work is needed to create ecological linkages between areas of particular biodiversity value.
The CEI has developed a project for bog enhancement and associated activities to be delivered over at least three years which will have the following aims:
Enhance: Bring habitats into better management and facilitate funding for conservation and restoration on a landscape scale;
Promote: The nature heritage of the East Ayrshire coalfield region as an internationally important asset & encourage people to explore and have pride in their environment;
Conserve: Encourage participation in conservation work through volunteering & educational activities.
The project has two distinct parts. Bog enhancement is at the heart of this project and we have a target to complete work over a minimum area of 100Ha by the end of this project. Additionally, the project will seek to raise awareness of the activities undertaken and the importance of bog habitats through a programme of engagement, and to involve the local community through educational and volunteering activities.
To find out about current volunteering opportunities and events, see our upcoming events.
With kind thanks to our supporters for this project:
Scottish Natural Heritage;
Heritage Lottery Fund;
SEPA;
Cumnock and Doon Valley Minerals Trust.
---
This page was last updated on 03 Oct 2016
Adobe Acrobat Reader is the free, trusted leader for reliably viewing, annotating and signing PDFs.
Download Adobe Acrobat Reader