Topic sections
What is it?
High Nature Value (HNV) Farming refers to farming systems where the overall management characteristics of the system provide a range of environmental benefits, particularly maintaining and enhancing a wide range of habitats and species (such as butterflies and birds) that are considered to be of high nature conservation importance at a Scottish, UK and European level.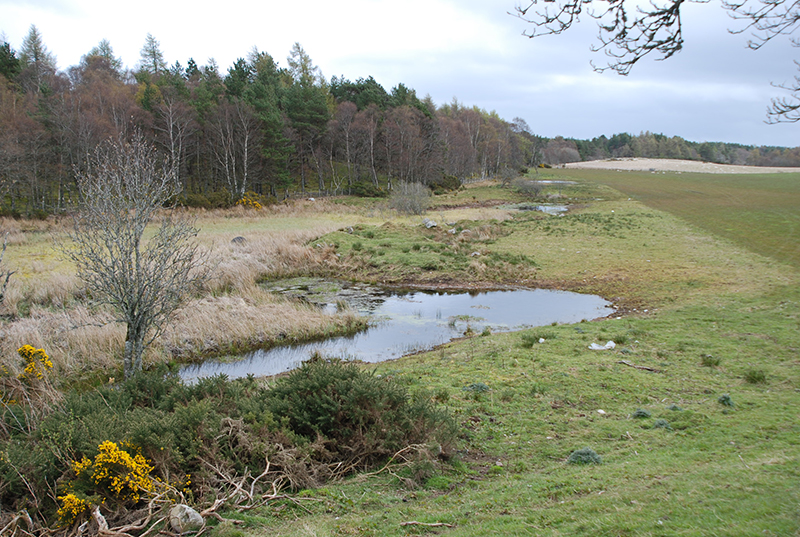 HNV farming systems in Scotland are associated with farms and crofts where semi-natural vegetation makes up a high proportion of the available forage resource and where the livestock grazing that resource do so at low grazing densities. View Scottish High Nature Value Farming case studies.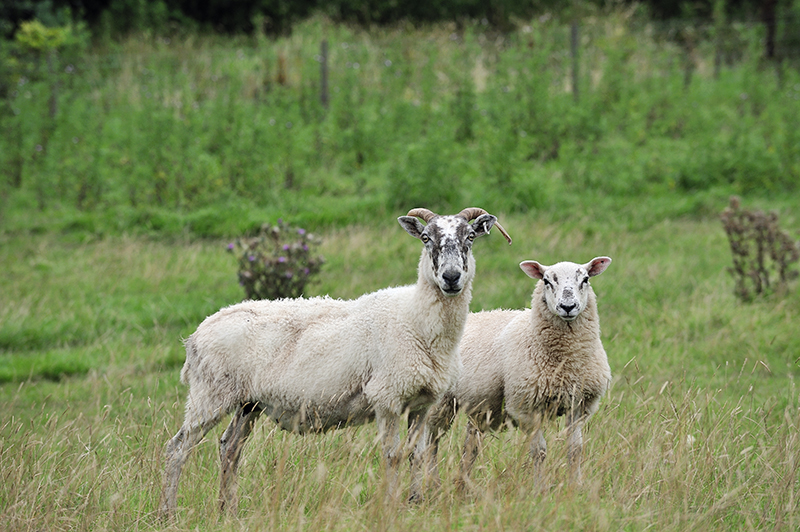 The indicator is applied across the EU but individual Member States, or parts thereof, develop specific indicators to reflect the nature of their own farming systems. An indicator for Scotland has been developed.
The main purpose of this indicator is to monitor the extent and broad distribution of HNV farming Scotland, in support of the Scottish Rural Development Programme (SRDP) and other Scottish Government Strategies such as the Land Use Strategy and ecosystem health indicators.
Explore the data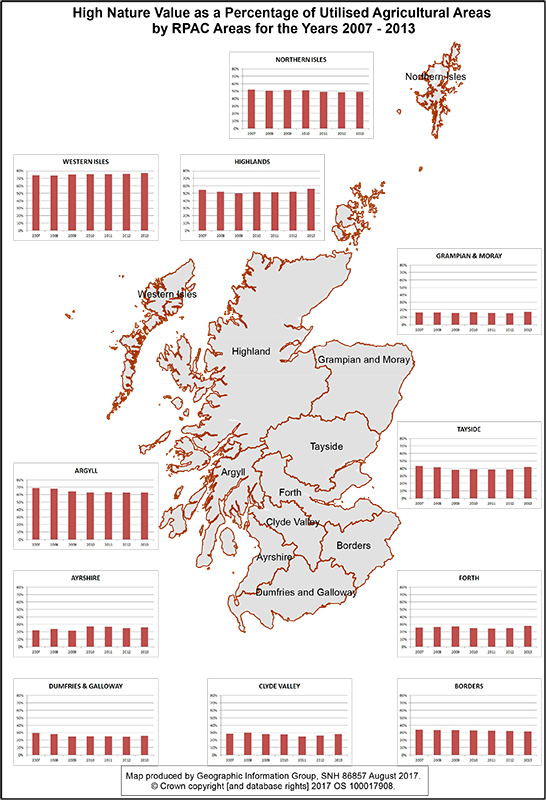 High nature value as a percentage of utilised agricultural areas by RPAC areas (2007-2013)
How do I interpret the data?
The map shows the estimated distribution and extent of HNV farming across Scotland, at a broad regional level, in each year since 2007.
The area of Scotland estimated as being under HNV farming has ranged between 2.3 and 2.4 million hectares of agricultural land between 2007 and 2013. This equates to a range of between 40% and 44% of the total amount of agricultural land in Scotland.
Geographically, the Highlands contain the largest area of HNV farming in Scotland (43% of HNV area being in Highland), followed by Argyll (11%) and Tayside (10%).
The Western Isles had the highest percentage of its total farmland under HNV, at 77%.
The number of agricultural holdings determined to be of HNV farming status was estimated at 2,089 in 2013. These holdings account for only 4% of the total number of holdings in Scotland yet the land on these holdings accounts for 44% of the agricultural area of Scotland.   
Who is responsible for this indicator?
This indicator is prepared by Scotland's Rural College (SRUC) and Scottish Government's Statistics Group.
---
Adobe Acrobat Reader is the free, trusted leader for reliably viewing, annotating and signing PDFs.
Download Adobe Acrobat Reader