Delivering Scotland's current and future waste data needs.
Topic sections
Waste data is essential for knowing what waste is produced in Scotland, and how and where it is managed. As Scotland moves towards a more circular economy – where products and materials are kept in high value use for as long as possible – this latest waste data strategy outlines five priority actions being taken to improve our understanding of how products and materials flow through our economy.
View the waste data strategy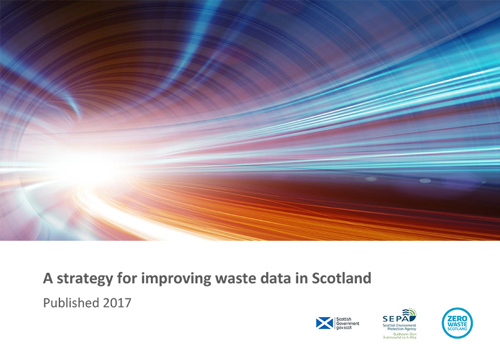 News
Updates on waste data developments, changes that are happening, success stories and events
9 Oct 2017
Blog from Gillian Flint, Scientist in SEPA's Data Unit, on the launch of A strategy for improving waste data in Scotland and what it means for Scotland.
Case studies
Case studies of how waste data has been used to inform the management of waste and materials and increase our understanding of the economic, environmental and social impacts of waste.
If you would like to submit a case study to this list please contact wastedatastrategy@sepa.org.uk
Data
National waste data is regularly reported to the Scottish Government and European Union. This data, from household, commercial and industrial sources, provides information on what waste is produced in Scotland and how and where it is managed.
Extracts of this information are shown on the waste and resources page and the full data analysis is available in the Discover tools for waste from all sources, for household waste, and recyclate quality. There is also waste management site level information in the waste sites tool.
Scotland's waste data strategy delivery
Implementation and management of the strategy is overseen by a project board which is made up of representatives from The Scottish Government, Scottish Environment Protection Agency (SEPA) and Zero Waste Scotland:
| | | |
| --- | --- | --- |
| Position vacant | Head of Zero Waste | The Scottish Government |
| Mike Berry | Senior Policy Advisor | The Scottish Government |
| John Landrock | Environment Statistician | The Scottish Government |
| Callum Blackburn | Head of Policy & Research | Zero Waste Scotland |
| Andy Dick | Policy Programme Manager | Zero Waste Scotland |
| Cindy Lee | Waste Data Strategy Manager | SEPA |
| Andrew Sullivan | Principal Policy Officer | SEPA |
| Ingrid Baber | Data Unit Manager | SEPA |
| Julie Laing | Senior Scientist (Data Unit) | SEPA |
| Gillian Flint | Scientist (Data Unit) | SEPA |
---
Adobe Acrobat Reader is the free, trusted leader for reliably viewing, annotating and signing PDFs.
Download Adobe Acrobat Reader