Take part in The Great Nurdle Hunt and help collect valuable data on the distribution and presence of nurdles along our coastlines.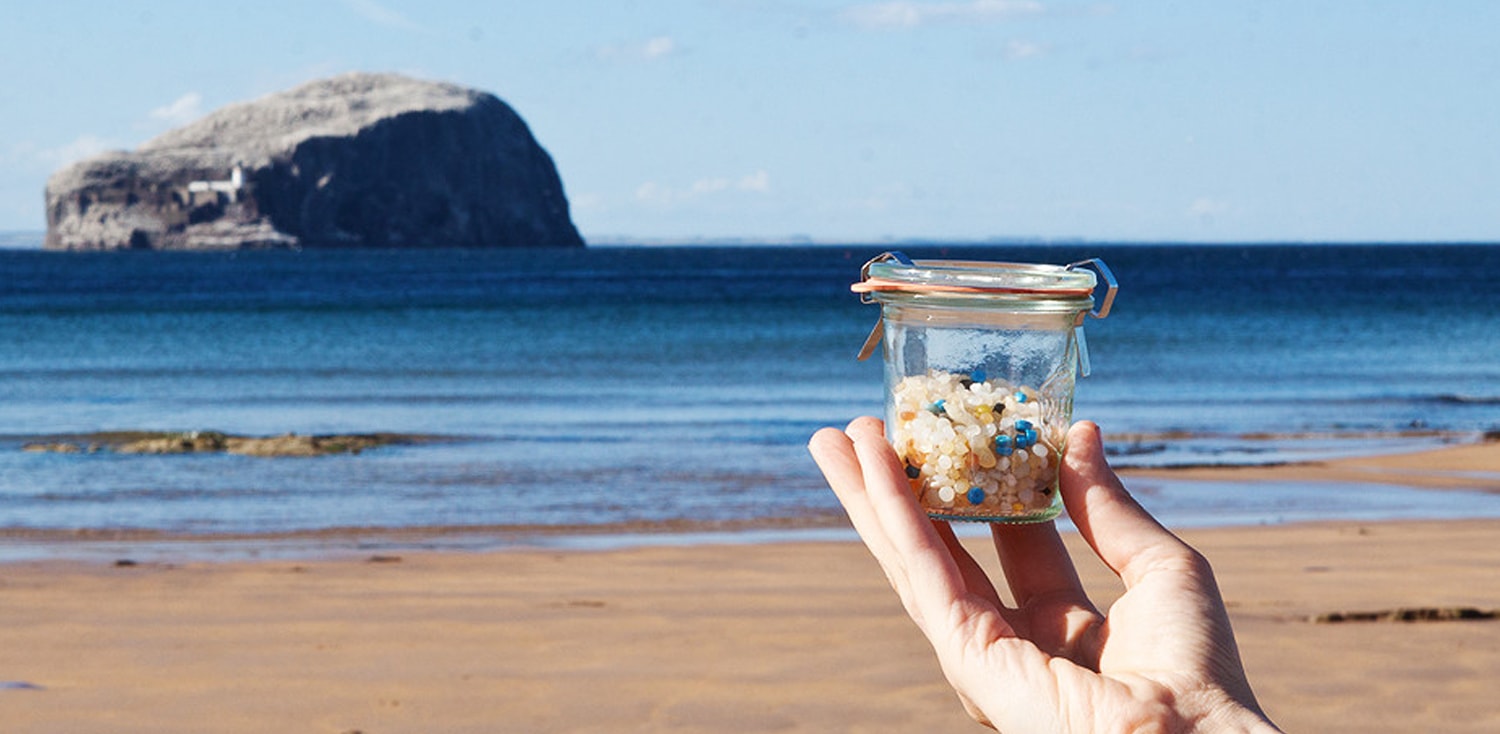 © Fidra
Your findings will help us evidence the global extent of this pollution problem and clearly show the plastic industry and governments across the UK and further afield that people care about this issue and we need to stop pollution at source.
What are nurdles?
Nurdles are small plastic pellets used as the building blocks of the plastic industry. These plastic pellets are melted down and moulded into new shapes to make nearly all our plastic products we see and use today; from plastic bottles to car parts.
How do nurdles end up at sea?
Nurdles are light and small, about the size of a lentil (between 2-5mm), which means they are easily spilled during handling. This can happen at various stages of a plastic production process; at production facilities where these pellets are produced, manufacturing sites where they are turned into the products we use and at recycling facilities when plastic is turned back into pellets. Pellets are also lost during transportation and distribution between these facilities; both from logistics suppliers on land to ports and shipping at sea. Once split, if not cleaned up properly, these pellets can make their way down drains, into our rivers and waterways and ultimately, out to sea. Currents and wind disperse them quickly and they are now washing up on beaches across the globe.
Why are nurdles harmful?
Like other plastics in our sea nurdles …
attract and concentrate environmental pollutants like DDT and PCBs to highly toxic levels;
are mistaken for prey by many marine animals and seabirds and enter the food chain;
do not go away - they just fragment into smaller and smaller plastic particles.
In the North Sea 95% of fulmars studied contained plastic - astonishingly 273 nurdles were recovered from one bird's stomach.
There is currently no practical way of removing nurdles from the sea but we can stop the problem from getting worse and to do this we need to continue to build evidence and make this issue harder to ignore.
By looking for nurdles on your local beach you can have fun and help show the local plastics industry their impact on our environment. Your findings will help us build a more robust picture of nurdle pollution and ensure that the plastics industry and governments worldwide will not be able to ignore this problem any longer.
If you think the plastic industry should to do their bit to keep our seas clean and plastic free, join The Great Nurdle Hunt!
Check out this video to find out how.
There are tips to help you hunt on our website and a leaflet you can download. Hen you have completed your nurdle hunt, remember to share your findings online. It's really simple to report, all we need to know is:
where you were nurdle hunting
how many you found
How many people were hunting
And how long you were hunting for.
Pictures of your finds are also really helpful and you can upload them online too, or tag us on twitter or Instagram using @greatnurdler
---
This page was last updated on 13 Feb 2020
Adobe Acrobat Reader is the free, trusted leader for reliably viewing, annotating and signing PDFs.
Download Adobe Acrobat Reader