Scotland's woodlands and forests support a wide range of important plants and animals. Rare and threatened species are more often found in and around semi-natural woodlands, but many have also colonised planted forests.
Topic sections
Key messages
Woodlands and forests support a large part of Scotland's terrestrial wildlife. Forests are extensive areas dominated by trees, while woodlands are often smaller elements of a landscape where open space is dominant, or at least is equal to tree cover.
YouTube: Wildlife in Central Scotland's woods and forests
Greater biodiversity (the variety of species, as well as the presence of rare species) tends to be associated with woodlands that have a complex structure (with mature trees, shrubs, deadwood and open ground), and with woods that have more tree species or a larger proportion of native species.
Woodland biodiversity indicators have been developed for the Scottish Biodiversity and Forestry Strategies to reflect these relationships.
Native woods can be semi-natural (self-sown) or planted. They are defined as woods in which over 50% of the canopy is made up of species native to the region. Many areas of native woodland are legally protected as Sites of Special Scientific Interest (SSSIs) or Special Areas of Conservation (SACs) because they contain one or more features of particular wildlife importance.
Human influence and climate change had reduced forests to only 4.5% of Scotland's land area by the start of the 20th century. No woodlands in Scotland can now be considered truly natural. Since then, a huge woodland creation effort has significantly increased Scotland's forest area.
Some have been continuously present in some form for at least 250 years; these are known as ancient woodlands. Native and ancient woods generally have a high value for biodiversity.
Plantation is woodland planted to a particular design, with rather narrow management objectives. Typically, plantations have less variety of tree species (conifers or broadleaves, and the main tree species can be non-native or native), tree sizes, dead wood, ground vegetation, and open spaces than mature semi-natural woodlands.
Over the last 30 years there has been a huge change in the approach to designing new woodlands in Scotland. An approach to managing existing plantations has been developed that uses the opportunities created by timber harvesting to transform plantations more quickly into forests. This restructuring process is routinely applied in Scotland to develop forests that are increasingly valuable as wildlife habitats as well as a timber resource.
YouTube: There's more to Scotland's forests than meets the eye
Climate change is expected to make Scotland a warmer, wetter and windier place, with more extreme weather. The factors determining our climate 50 years from now are not fully understood, but there will be positive and negative effects on trees and woodland wildlife. Some species may need to migrate to new areas as their habitats change. Others may be able to colonise a larger area as average temperatures rise.
To find out more about the Forestry Sector in Scotland - Scottish Forestry SPICe Briefing - 21 November 2016.
Data
View forest and woodland data on Scotland's environment web:
The Native Woodland Survey of Scotland (NWSS) was carried out from 2006-2013 to establish the first authoritative picture of Scotland's native woodlands.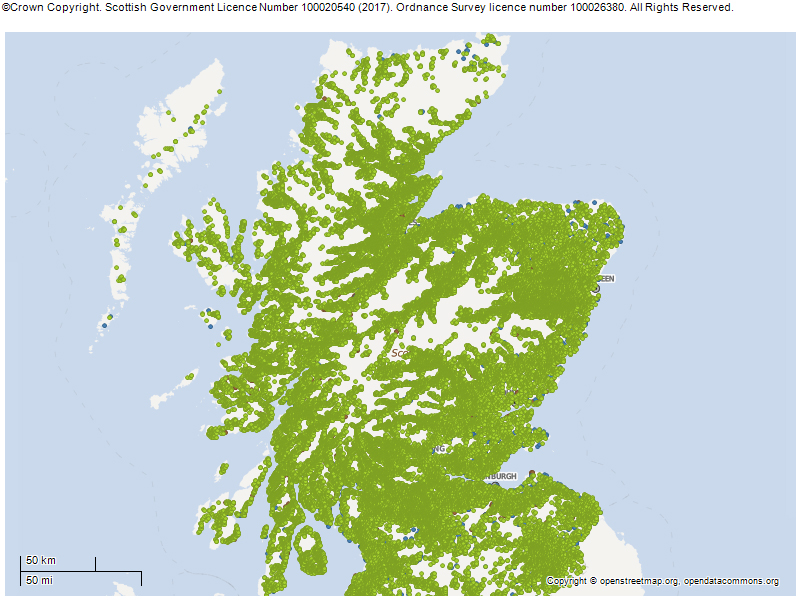 Search the broad range of Scotland's protected nature sites that includes woodland features of interest, to examine their location, condition and any pressures on the condition.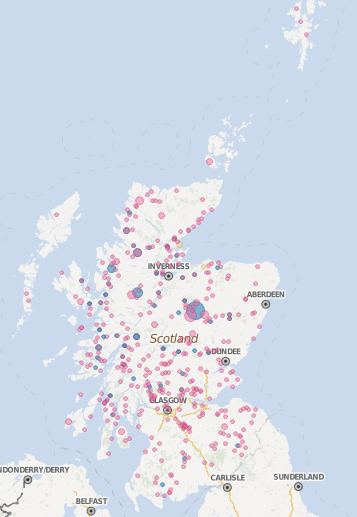 National Forest Inventory – This application provides information about the size, distribution and composition of all forests and woodlands in Scotland and is essential for developing and monitoring policies and guidance to support their sustainable management. This application provides a visual analysis for Scotland and it forms part of the wider surveys carried out on forests and woodlands across Great Britain.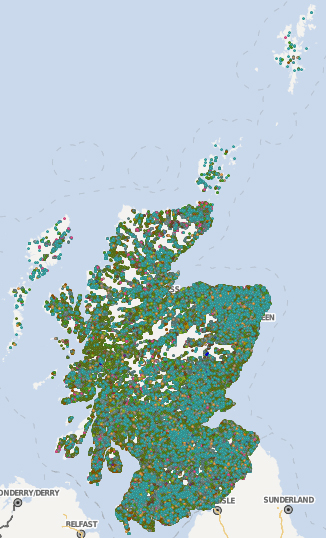 National Forest Estate - This application gives a visual analysis of the National Forest Estate managed by Forestry and Land Scotland – providing information on the trees and forests it manages. The information has a range of valuable uses, for example:
Enables economic, environmental and social forest-related decision-making by Forestry and Land Scotland, government, industry and public
helps us meet our national and international forest-related reporting responsibilities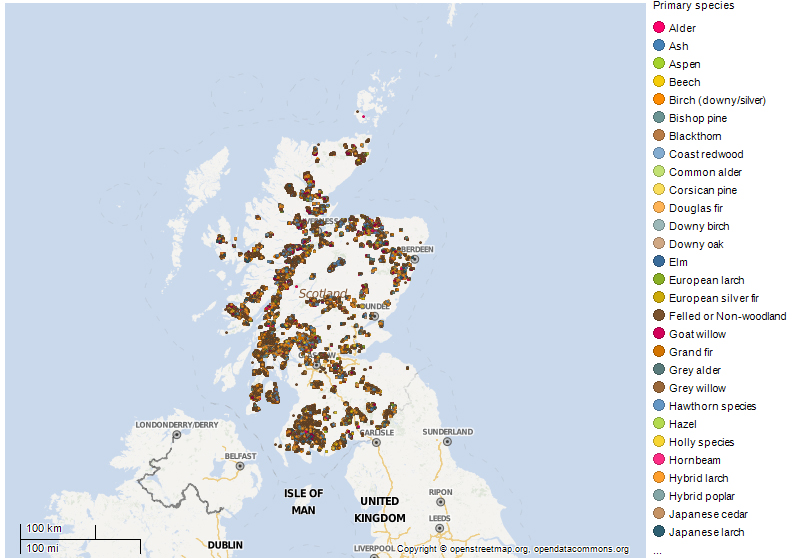 A wide range wide range of forestry datasets are available - including statistics and economic research, National Forest Inventory, GIS data download, register of approved basic material.
What are we doing?
Good-practice standards for managing woodlands and guidance for biodiversity are available in the UK Forestry Standard (UKFS) and associated guidelines.
The Scottish Forestry Strategy (2006) sets out the Scottish Government's ambitions for the condition of woodlands and the services that those woodland will provide for society.
The 2020 Challenge for Scotland's Biodiversity, sets out ambitious policy proposals for restoring nature and getting more benefits from it, including improving the condition of native woodlands identified in the Native Woodland Survey of Scotland.
Under the Scottish Government's Control of Woodland Removal Policy, loss of woodland should only be permitted if it results in significant public benefits. Planting in other areas to make up for any loss of woodland is often expected.
Development-planning policies also influence the location and character of woodland expansion through Forest and Woodland Strategies and encourage the development of green networks, notably the Central Scotland Green Network.
Guidance is available to help:
Collaboration between neighbours in the management of deer, which integrates the management of woodlands as well as the deer that live there, is encouraged. A Scottish code of practice for sustainable deer management gives advice on this. Regional deer management groups in the uplands and a new Lowland Deer Network Scotland are developing a more co-ordinated approach to deer management.
The Forestry Grant Scheme supports new woodland creation and sustainable management of existing woodlands.
The Land Information Search (LIS) for Agri-Environment and Forestry should be used by applicants for Scotland Rural Development Programme (SRDP) Forestry Grant Scheme contracts or forest felling licences, taking the information into account when applying for grants or licences. The tool allows you to run a map-based search to highlight the presence of a range of environmental features and designations such as Scheduled Monuments, Sites of Special Scientific Interest and Native Woodlands that may fall within an area of interest and within a 500m buffer.
Planning and managing woodlands is generally best considered over the long term and on a landscape or whole forest scale, within a regional context. Long-term forest plans are in place for all of the national forest estate, and are now required as a condition of grant aid for most management in private woodlands. These plans set out, for a period of at least 20 years, how the diversity of conifer forests will be increased as they mature. At the end of 2013 there were 215,426 ha of privately owned woodland with a long-term forest plan.
Increasing demand for public use of woodlands is being met by encouraging more planting and management of woods in and around towns.
As well as removing emissions at source, good river-basin planning and site management can reduce the effects of nitrogen enrichment on woodland biodiversity. Careful management of livestock grazing may also help. The UKFS guidelines on forests and water include measures to minimise the effects of acid rain.
YouTube: Managing Water in Forests - Cultivation
YouTube: Managing Water in Forests - Harvesting
Scotland's forests are at risk from tree pests and diseases. Climate change, global travel and imported plants and wood can increase pests and diseases and their impacts. These can dramatically affect the health of our trees and timber quality, upsetting the delicate ecosystem balance and devastating large areas of woodland.
Scotland has one of the greatest health challenges of Europe's developed nations. Forestry Commission Scotland and the whole forest sector can contribute positively to the health agenda. The Woods to Health Strategy and Woods for Health action plan focus on making local woodland accessible and welcoming – helping people build healthy activity into their daily lives. A number of case studies and further information on the role Scotland's forests can plan in improving health and well-being have been published by Forestry Commission Scotland.
Policy and legislation
Woodland creation and forest management is regulated by Forestry Commission Scotland (FCS), mainly under the Forestry Act 1967 (revised) and The Environmental Impact Assessment (EIA) (Forestry) (Scotland) Regulations (1999).
Other environmental protection legislation that applies to woodlands includes:
Under the Wildlife and Natural Environment (Scotland) Act 2011, Scottish Natural Heritage, Forestry Commission Scotland, and SEPA have powers and responsibilities to tackle problems caused by Invasive Non-Native Species (INNS).
---
This page was reviewed on 06 Mar 2019
Adobe Acrobat Reader is the free, trusted leader for reliably viewing, annotating and signing PDFs.
Download Adobe Acrobat Reader