Scotland generally has cool summers, mild winters and rain falls throughout the year. Changes in our climate over the next few decades are unavoidable because of the greenhouse gases already in the atmosphere.
Topic sections
When viewed over long-term averages, we expect the UK to experience more milder wetter winters and more hotter drier summers in the future. These changes in climate and their effect on our weather will have major implications for our way of life.
Key messages
The world's climate is changing. Since the late 1800s, the atmosphere and ocean have warmed, amounts of snow and ice have diminished, the sea level has risen, and concentrations of greenhouse gases in the atmosphere have increased.
YouTube: NASA - Climate change and global warming data visualisation
People are causing this rapid change in climate mainly due to greenhouse gas emissions:

Water vapour (H2O)
carbon dioxide (CO2)
nitrous oxide (N2O)
methane (CH4)
ozone (O3).

These are formed as a result of natural and human activities. There are also a number of entirely human-made greenhouse gases in the atmosphere, such as sulphur hexafluoride (SF6), hydrofluorocarbons (HFCs) and perfluorocarbons (PFCs).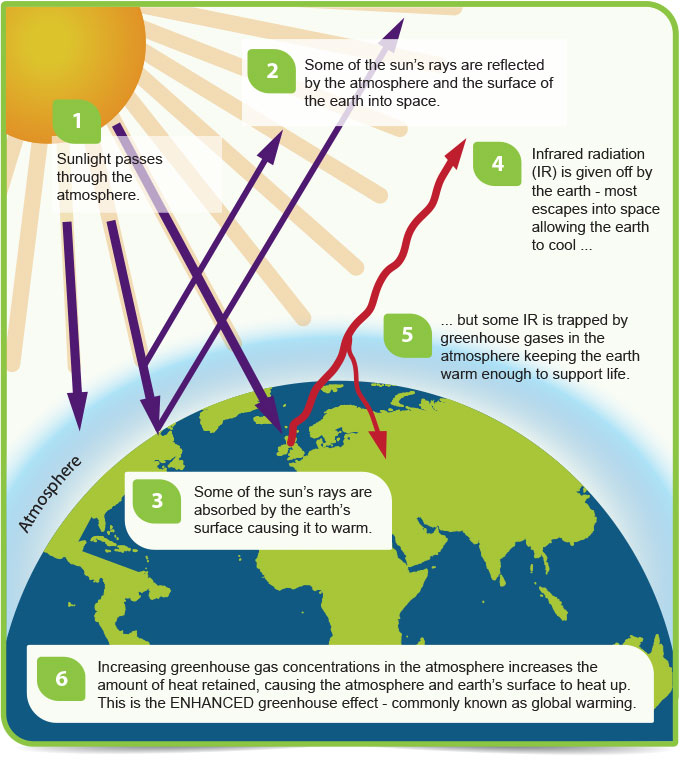 Greenhouse effect: Met Office - State of the UK climate
While the recent rapid change in climate can be attributed to human activities, the climate has also changed throughout geological time, well before people were around. This is known as natural climate variability and is due to a number of factors, including:

changes in the Earth's orbit

Scotland's climate is already changing. The climate will continue to change in the future and this will present a wide range of threats and opportunities to the environment, infrastructure, economy and people of Scotland.
The key climate change risks and opportunities for Scotland, as set out the in UK Climate Change Risk Assessment 2017: Evidence Report – Summary for Scotland, include:

Natural environment and natural Assets – Climate change poses risks to Scotland's soils, natural carbon stores, agriculture, wildlife and coastal habitats and seas. More action is needed to manage these risks. More evidence is also needed to fully characterise other climate change risks and opportunities that are likely to be important for Scotland, including changes in agricultural and forestry productivity and land suitability, as well as impacts on freshwater and marine ecosystems.
Infrastructure - Infrastructure in Scotland is exposed to a range of climate hazards. Impacts on some assets have the potential to cascade on to others as part of interdependent networks. Flooding poses the greatest long-term risk to infrastructure performance from climate change, but the growing risks from heat, water scarcity and slope instability caused by severe weather could be significant.
People and the built environment - There are potential health benefits from warmer winters in Scotland, but more action is needed to manage current risks to people from cold temperatures through addressing fuel poverty.
Business and industry - Flooding and extreme weather events which damage assets and disrupt business operations pose the greatest risk to Scottish businesses now and in the future. This could be compounded by a lack of adaptive capacity. New regulations or other government intervention made necessary by climate change also pose an indirect risk to businesses
International dimensions - Climate change will impact upon water security, agricultural production and economic resources around the world. These impacts can compound vulnerability in other countries, which can in turn exacerbate risks from conflict, migration, and humanitarian crises. The main risks arising for the UK from climate change overseas are through impacts on the food system, economic interests abroad, and increased demand for humanitarian aid.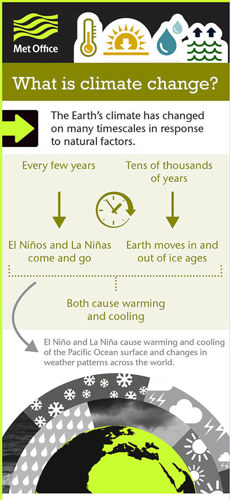 The infographic explores the difference between weather and climate, what drives our climate and how our climate is changing - View the full infographic at the Met Office - What is climate change?
YouTube: What is climate? - Met Office climate change guide
YouTube: What is climate change? - Met Office climate change guide
YouTube: How does the climate system work?
Data
Scotland's Climate
The Met Office has separated Scotland into three climatic zones – Northern, Eastern and Western – describing the main features of each region's climate.
Regional weather summaries and data download of the time-series monthly, seasonal and annual regional values are also available from the Met Office.
Scotland's climate trends
View Scotland's climate trends data below.
View the full data analysis application for further detail
Scotland's climate projections
The UK Climate Change Projections (UKCP09) provide the latest indications of the likely scenarios for Scotland's projected climate.
The interactive graph below shows UKCP09 data specifically for Scotland (the data is up to date as of September 2012). Choose to display and use projections over land for different parameters:
Emissions scenarios (low, medium, high)
time periods (seven overlapping 30-year periods from 2010-2039 to 2070-2099)
locations 925km square, average over a region or river basin catchment area)
averaging periods (month, season, annual)
climate variable
change or absolute value.
Find out more about the parameters and view the full data analysis application
Scottish greenhouse gas emissions 2014
Official statistics publication (June 2016) containing the results of the Scottish greenhouse gas inventory for 1990-2014. A key tool for understanding the origins and magnitudes of the emissions and the assessment of policies designed to control or reduce emissions.
Sources of Scottish greenhouse gas emissions, 2014. Values in metric tons of carbon dioxide equivalent (MtCO2e).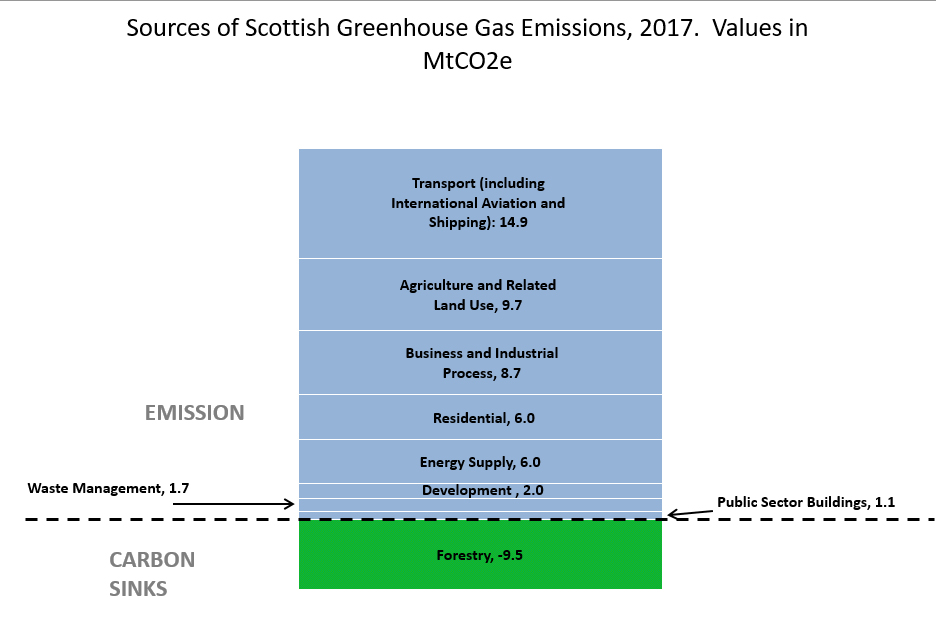 Chart B1. Sources of Scottish Greenhouse Gas Emissions, 2014. Values in Metric tons of carbon dioxide equivalent (MtCO2e) - The Scottish Government.
Global climate change
The Intergovernmental Panel on Climate Change (IPCC) report Climate Change 2013: The physical science basis confirms that since the late 19th century the atmosphere and ocean have warmed, amounts of snow and ice have diminished, the sea level has risen, and concentrations of greenhouse gases in the atmosphere have increased.
Each of the last three decades has been successively warmer at the Earth's surface than any preceding decade since.
ClimateXChange includes in it's reports details on:
Physical science basis
impacts, adaptation and vulnerability
mitigation.
NASA conducts a program of breakthrough research on climate science. It runs programs to obtain and convert data from Defense Department and National Oceanic and Atmospheric Administration (NOAA) satellites as well as from some European, Japanese and Russian satellites. NASA also sponsors field experiments to provide "ground truth" data to check space instrument performance and to develop new measurement.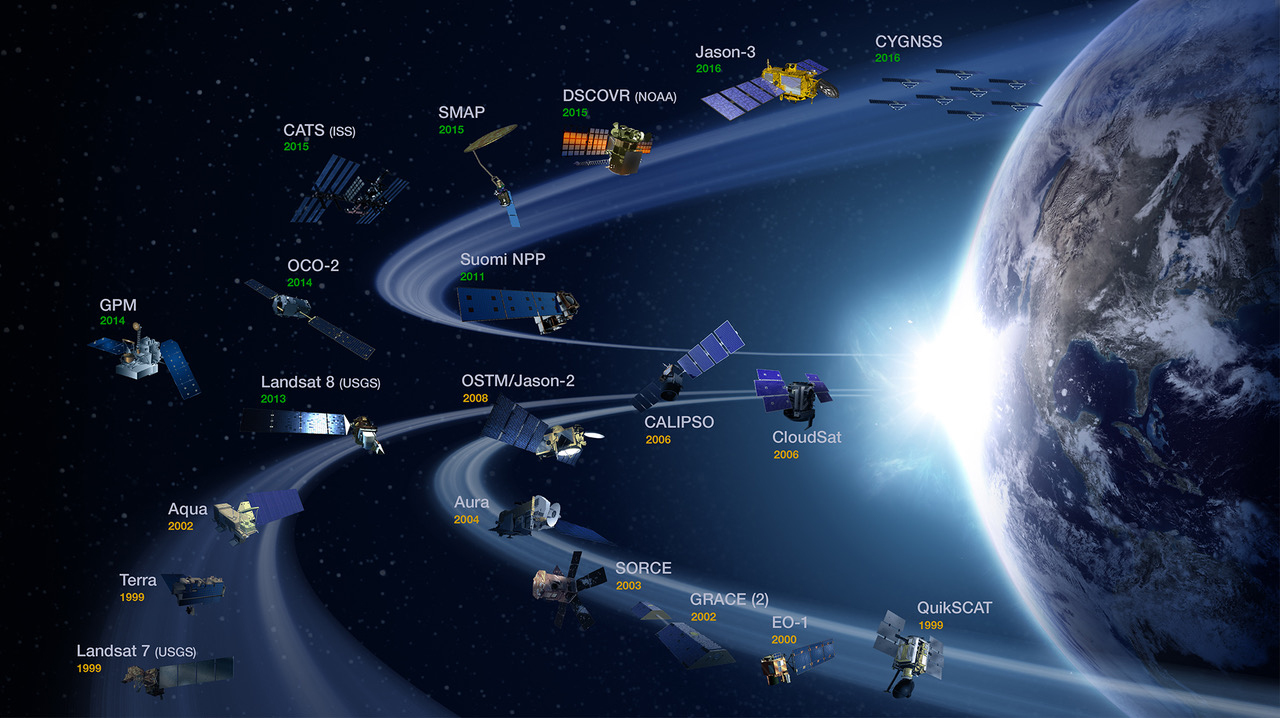 Taking a global perspective on Earth's climate – NASA Global Climate Change: Vital signs of the plant.
NASA has more than a dozen Earth science spacecraft/instruments in orbit studying all aspects of the Earth system (oceans, land, atmosphere, biosphere, cryosphere), with several more planned for launch in the next few years.
What are we doing?
International agreements
With 197 parties, the United Nations Framework Convention on Climate Change (UNFCCC) has near universal membership and is the parent treaty of the 1997 Kyoto Protocol. The Kyoto Protocol has been ratified by 192 of the UNFCCC Parties. The ultimate objective of both treaties is to stabilise greenhouse gas concentrations in the atmosphere at a level that will prevent dangerous human interference with the climate system.
Setting targets
The Second Report on Proposals and Policies 2013 to 2027 sets out how Scotland can deliver statutory annual targets to reduce greenhouse gas emissions (set through the Climate Change (Scotland) Act 2009).
Adaptation
A UK-wide Climate Change Risk Assessment (CCRA) is published every 5 years to describe, and where possible quantify, the impacts from climate change
YouTube: UK Climate Change Risk Assessment 2017 - Urgent priorities for the UK
Mitigation
The Government has set ambitious targets to reduce emissions of greenhouse gases. To help ensure the delivery of the percentage targets, the Scottish Ministers must set annual targets covering the period 2010-2050 in secondary legislation at least 12 years in advance.
A range of advice reports have been published by the UK Committee on Climate Change:

2010-2022 Targets – Scotland's path to a low carbon economy (February 2010)
2023-2027 Targets – Advice to Scottish Government
2028-2027 Targets – Scottish Emission targets – the high ambition pathway towards a low carbon economy (March 2016)

Annual Targets for 2010-2022 and 2023-2027 have been set in secondary legislation under the Climate Change (Scotland) Act 2009
Ministers have published two reports setting out proposals and policies for meeting the targets (March 2011 and June 2013).
Scotland's soils
Scotland's soils contain large amounts of organic matter. It is important to manage soils carefully to ensure the carbon stays in the soils and does not escape into the atmosphere as greenhouse gases. View the distribution of carbon and peatland classes across the whole of Scotland on Scotland's soils website.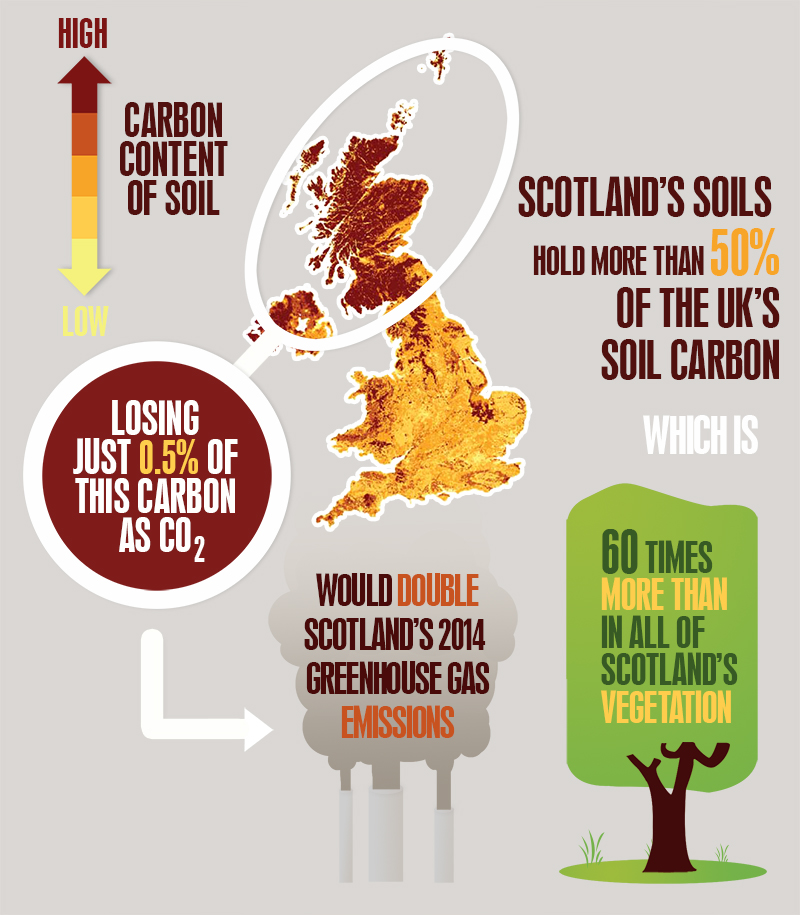 The Scottish Government has developed a tool to calculate the carbon savings from wind farms on Scottish peatlands.
Scotland's National Peatland Plan (2015) - highlights the major contribution peatlands make to Scotland. Peatlands occur throughout the country, with many bogs and fens. As stores of carbon they are supremely important in helping to tackle climate change. See Scottish Natural Heritage's website for more about Action for Peatlands - including videos and guidance.
Farming for a better climate – provides practical support to benefit the farm and help reduce our impact on the climate. Taking action as a sector, both to reduce greenhouse gas emissions and to adapt to a changing climate, will secure farm viability for future generations.
Businesses
NetRegs - provides regulatory advice and guidance for Small to Medium Size Enterprises (SME's) on carbon reduction and efficiency.
Policy and legislation
The Climate Change (Scotland) Act 2009 makes a commitment to cut greenhouse gas emissions in Scotland by 80% of 1990 levels by 2050 with an interim target of a 42% cut by 2020 . The Act sets a framework for action in Scotland to reduce emissions as well as adapt to a changing climate.
To find out more about Scottish primary and secondary climate change legislation, see – Climate change legislation.
SEPA regulates a wide range of industries and organisations whose activities generate emissions of greenhouse gases. SEPA is Scotland's national flood forecasting, flood warning and strategic flood risk management authority.
---
This page was last updated on 03 Oct 2016
Adobe Acrobat Reader is the free, trusted leader for reliably viewing, annotating and signing PDFs.
Download Adobe Acrobat Reader
State of the environment
Useful contacts
ClimateXChange - provides independent advice, research and analysis to support the Scottish Government as it develops and implements policies on adapting to the changing climate and the transition to a low carbon society.
Committee on Climate Change - an independent, statutory body established to advise the UK Government and Devolved Administrations on emissions targets and report to Parliament on progress made in reducing greenhouse gas emissions and preparing for climate change.
Forestry Commission Scotland (FCS) - has an ambitious target to extend woodland cover in Scotland by an additional 100,000ha over the period 2012-2022. This would lock up around 4 million tonnes of extra carbon dioxide by 2027, whilst also providing a range of other environmental, economic and social benefits.
Historic Environment Scotland - is working on projects to mitigate emissions from our own operations, adapt our buildings and make our activities more sustainable. The organisation also supports the public and partners by providing advice and publishing research on measures to: improve energy efficiency in traditional buildings; adapt traditional buildings to the changing climate.
Keep Scotland Beautiful  (KSB) - works with organisations and communities to help change behaviour to reduce carbon emissions, improve local areas and help people to adapt to the impacts of climate change.
Met Office - the UK's national weather service and a centre of excellence in weather and climate science.
Resource Efficient Scotland - offers free advice and technical support as well as the sharing of best practices and new technologies. Embedding resource efficiency within Scottish organisations makes a significant contribution to the achievement of the Scottish Government's strategic economic objectives, climate change, energy efficiency and zero waste targets.
Scottish Environment Protection Agency (SEPA) - works with the Scottish and UK governments and the other UK environmental regulators to implement and enforce national legislation and European directives that aim to reduce emissions and improve energy efficiency. SEPA also participates in the development and revision of guidance, policy and legislation to tackle climate change.
Scottish Natural Heritage (SNH) - works with others to reduce climate change impacts of managing land and sea, safeguarding nature, enjoying the outdoors.
Sustainable Scotland Network (SSN) - works to improve Scottish public sector performance on sustainability and climate change. The Network is supported and coordinated by Keep Scotland Beautiful.
The Scottish Government - recognises climate change will have far reaching effects on Scotland's economy, its people and its environment and is determined to play its part in tackling climate change.