Scotland's soils are an important natural resource. They play an essential part in all our lives, providing us with a wide range of benefits.  Some of these benefits are obvious, like growing food, while many are less clear, like filtering water, reducing flood risk and influencing climate.
Topic sections
Key messages
Scotland has a wide variety of different soils types. This is because our soils are created from a wide variety of rocks and sediments by a range of processes controlled by the climate and where the soil sits in the landscape.
Healthy soils can provide us with a wide range of benefits. Some of these benefits are obvious, like growing food, while many are less clear, like filtering water, reducing flood risk and influencing climate.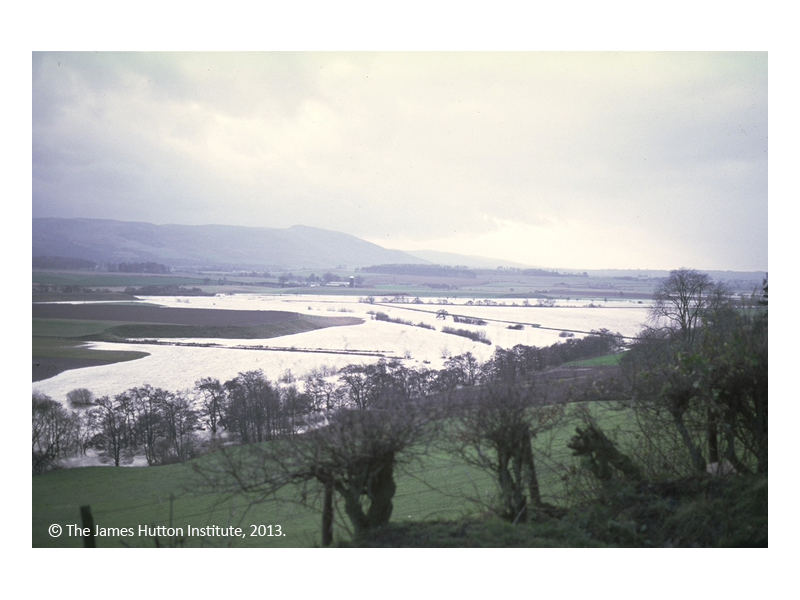 However, our soils can be damaged by a number of processes including erosion, compaction and loss of organic matter. Damaged soils can be a problem, not just for the soil itself, but also for people and the wider environment. For example, rivers can be damaged by soil erosion.
We need to protect our soils so that they can continue to provide the benefits we need, now and in future.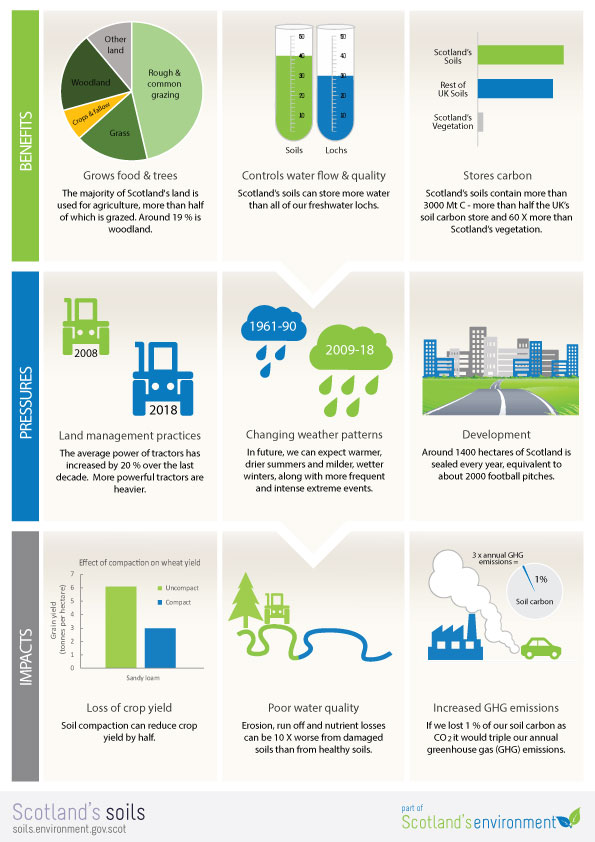 Land Infographic (PDF)
Scotland's soils website
This website provides data and information on Scotland's soils. It highlights the importance of soils, what they do for us, how well they do it and what happens when they are damaged:
Maps and data
A range of soil maps are available on Scotland's soils website, as well as point data relating to specific locations where soils have been sampled and analysed for a range of properties. There are also links to where you can download the data.
What are we doing?
Although there is no one-size-fits-all soil protection policy for Scotland, there is a range of policies and legislation that protects some aspects of soil and influences how our soils are managed.
The Scottish Government published the Scottish Soil Framework in 2009 with the aim to
"... promote the sustainable management and protection of soils consistent with the economic, social and environmental needs of Scotland."
The Framework set out to co-ordinate existing policies that related to soils. A number of actions to help protect soils and encourage sustainable soil management were agreed.
The State of Scotland's Soil Report, Scotland's soils website and Scotland's Soil Monitoring Action Plan were all developed as a result of the Framework. A Scottish Soil Framework Progress report, published in 2013, provides further information on the outputs of the Framework.
There is also a rich history of soil surveying, mapping and internationally important research in institutes and universities in Scotland. Together these create the basis for the information contained in Scotland's soils website.
State of Scotland's soil report published in 2011, concluded that the main threats to Scotland's soils were loss of organic matter, changes in soil biodiversity, erosion, and covering soil in impermeable materials such as concrete.
Soil Monitoring Action Plan (Soil MAP) is working to improve communication, awareness and understanding between a range of different users. The aim is to develop a soil monitoring programme that supports the collection of soil data and makes soil data and information available that meets the needs of these users.
Get involved – There are portals and apps that allow you to find out more about the soil beneath your feet and others that ask you to collect information about your soils. The soil erosion portal has now closed, if you have any queries please contact us
Soils news – Find out the latest news and announcements about Scotland's soils.
Scotland's soils website provides an extensive list of the European, UK, and Scottish policy and legislation that is in place to protect our soils.
---
Adobe Acrobat Reader is the free, trusted leader for reliably viewing, annotating and signing PDFs.
Download Adobe Acrobat Reader