Scotland's rocks and landforms provide a range of benefits and help us to understand how the Earth has evolved.  They provide us with valuable economic resources  and naturally regulate hazards and flooding.
Topic sections
Key messages
Scotland's rocks and landforms (geology and geomorphology), created by natural processes over the last 3 billion years, are of national and international importance for demonstrating key geological processes and events in the Earth's history.
Siccar Point on the South-East coast of Scotland is world-renowned in geological science, famous for outcrops that reveal 'Hutton's Unconformity', and is a location rightly regarded by many as the birthplace of modern geology.
YouTube: Siccar Point – the birthplace of modern geology – British Geological Survey
Rocks and landforms are part of Scotland's rich geodiversity – the variety of rocks, minerals, fossils, landforms, sediments and soils, and the natural processes that form and alter them (known as geomorphological processes).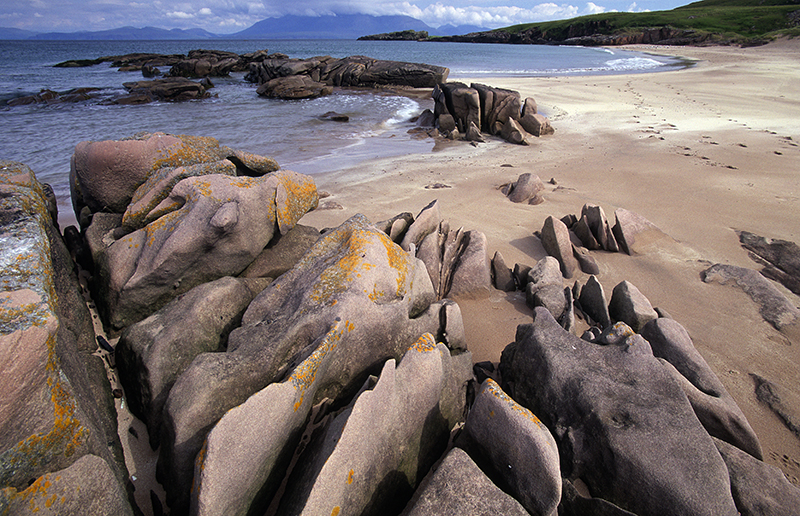 Rocks and landforms in Rum – © Laurie Campbell, – Scottish Natural Heritage
Scotland is made up of a wide variety of rocks and sediments of different ages including:

Rocks formed from sediments (such as sand and mud) and by volcanic activity throughout geological time
some of the oldest rocks in the world (hard rocks deformed by heat and pressure deep inside the Earth over 3 billion years ago)
deposits left by glaciers a few thousand years ago
fossils, some of which are internationally important
economic resources, such as aggregates and crushed rock, coal, oil and metal ores including rare and precious minerals
Scotland's landforms have been shaped over time by:

Water
wind
waves
ice
landslides.

The advance and retreat of glaciers have created many of the landforms we see today, such as:

Mountain corries
deep lochs
crag-and-tail hills on which Edinburgh and Stirling Castles sit.

Our varied coastline was formed by many processes, including sea-level changes caused by the last ice age. Today, we have the highest cliffs and some of the largest sand dunes in the UK, as well as important mudflats and salt marshes.
There are many different river features formed by a range of river types, from steep mountain torrents to meandering channels in the lowlands.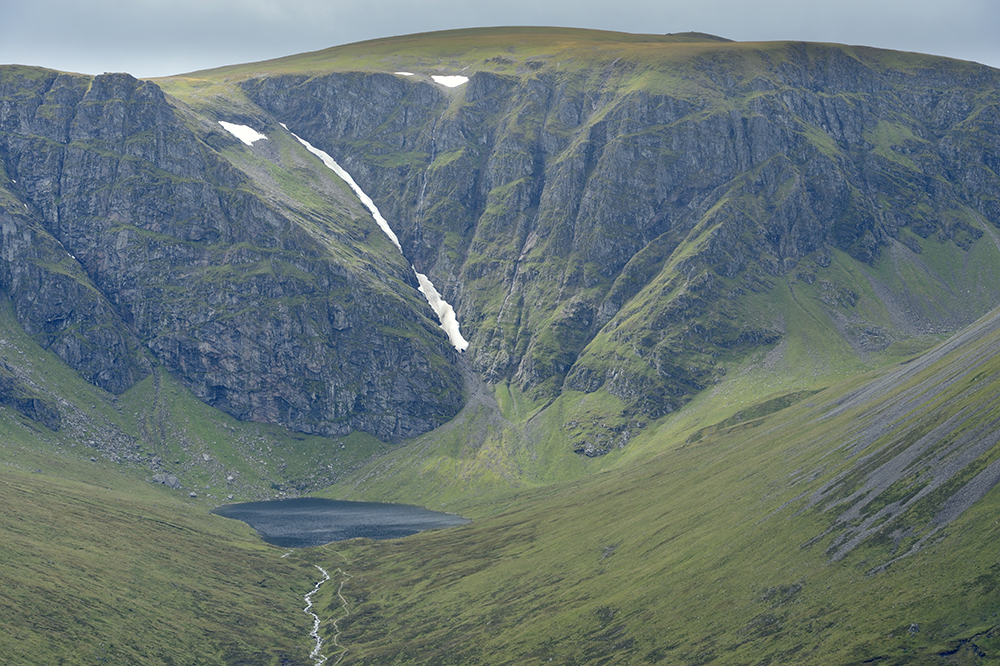 Creag Meagaidh - © Copyright Lorne Gill - Scottish Natural Heritage

Our geodiversity is the foundation of our biodiversity, scenery, and cultural heritage and naturally regulates hazards such as flooding.
Understanding how rocks and landforms change over time will help us understand and adapt to current issues, such as climate change and rising sea levels. Mismanagement of our rocks and landforms could reduce our ability to adapt to the impacts of climate change.
Scotland has a long history of minor earthquakes, with magnitudes mostly below 4 on the Richter local magnitude scale. Landslides most often occur on steep slopes. Many recent landslides in Scotland have been initiated during prolonged or extreme rainfall, and a number have caused disruption to transport routes.
Data
The British Geological Survey (BGS) is a data-rich organisation with over 400 datasets in its care, including:
Environmental monitoring data
digital databases
physical collections (borehole core, rocks, minerals and fossils)
records and archives.
The data is managed by the National Geoscience Data Centre.
View geology data on a mobile device using the iGeology app where you can also share your geological observations and photographs including points of interest and outcrops. We also encourage you to tell us where our mapping needs updating.
Minecraft maps
Are you a fan of Minecraft? BGS has reproduced 2D and 3D maps of geology and surrounding islands within the world of Minecraft. This map shows the OS map data on the surface and the rough position of real geology beneath, repeated down to the bedrock.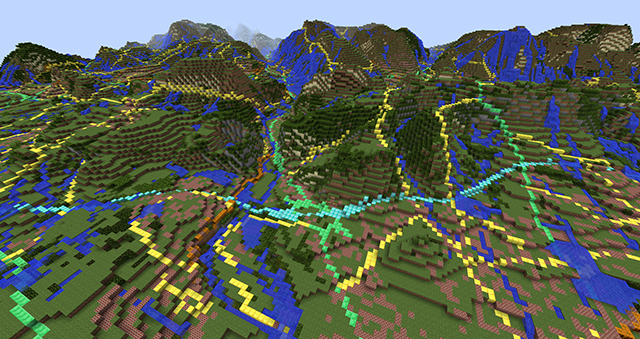 British Geological Survey has reproduced the 2D geology of mainland Great Britain and surrounding islands within the world of Minecraft.
Make a map
Make-a-map – customisable map of the rock units that are of interest to you – for amateur geologists, students and teachers.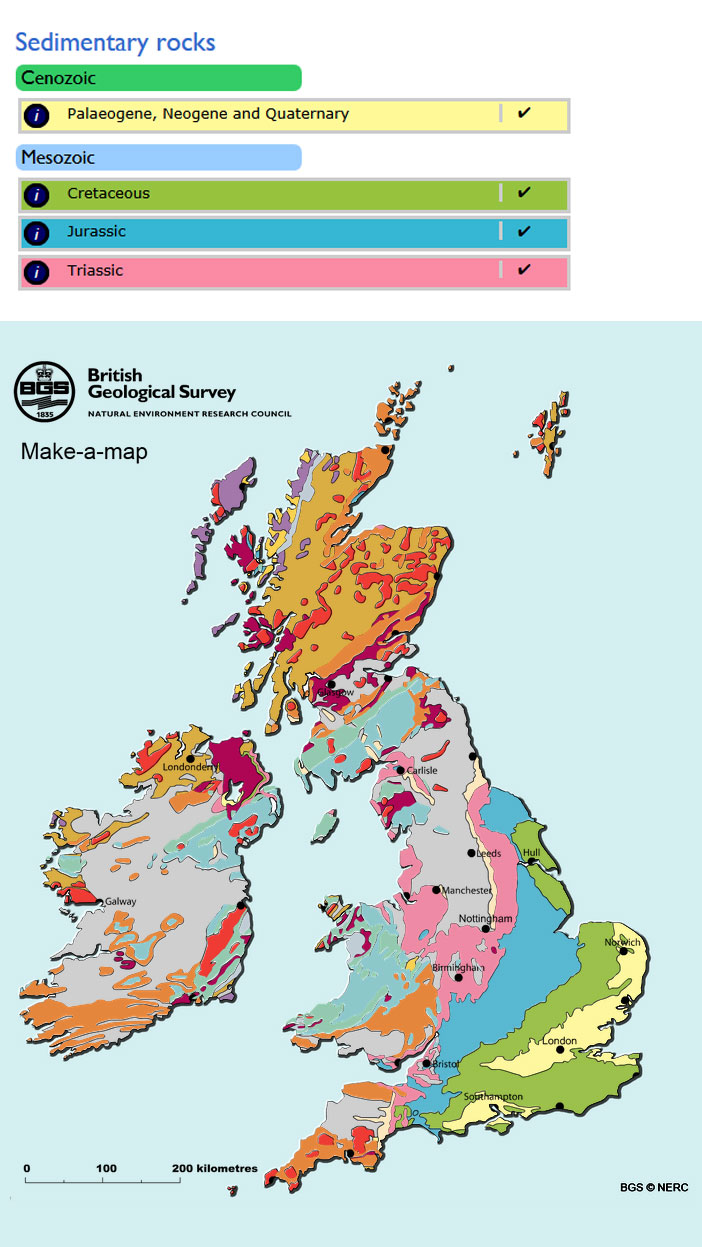 Protected nature sites
The results of Scottish Natural Heritage's site condition monitoring programme can now be searched live through the Protected Nature Sites data analysis application. Here you can find the number of Earth science features that have been assessed as favourable, unfavourable or recovering due to management, as well as searching by area, or using more detailed selection tools to find how many Earth science features have a record of irreversible damage ('partially destroyed') at their last assessment. Data on pressures impacting features can also be searched.
What are we doing?
There are around 895 important rock and landform sites in Scotland (identified by the Geological Conservation Review, GCR). Around 75% of these are protected as notified Earth science features in SSSIs, and their condition is monitored under Scottish Natural Heritage's (SNH) Site Condition Monitoring programme.
Case studies illustrate how individuals and organisations are working to maintain and celebrate Scotland's geodiversity, and support Scotland's Geodiversity Charter.
Local GeoConservation – local groups work with local authorities to designate Local Geodiversity Sites, and work to raise awareness of sites and geodiversity through publicity such as leaflets, booklets, posters, interpretation boards and websites, and by developing access and educational usage of sites and trails. Local Geodiversity Sites were previously known as RIGS, Regionally Important Geological and Geomorphological Sites.
Geoparks – celebrate our outstanding geological heritage and its links to culture, education and sustainable economic development.
Policy and legislation
Scotland's Geodiversity Charter – encourages everyone to work together to raise awareness of, and manage, Scotland's geodiversity; and to ensure its better integration into policy and guidance to meet Scotland's economic, social, cultural and environmental needs.
The principal method of protecting a geological feature or landform of national or international importance is through notification within a Site of Special Scientific Interest (SSSI). Site of Special Scientific Interest (SSSI), a statutory designation made by Scottish Natural Heritage under the Nature Conservation (Scotland) Act 2004.
Legislation only provides limited protection to geodiversity outside SSSIs from the following activities:
Housing, commercial and industrial development
mineral extraction, landfill and quarry restoration
renewable energy developments
flood-prevention schemes, riverbank protection and coastal defences.
Geoparks, national parks, national nature reserves and local nature conservation sites also help protect rocks and landforms and marine protected areas (MPAs) help protect important seabed features.
National Planning Framework 3 – Promoting Responsible extraction of Resources – states that planning should safeguard mineral resources and facilitate their responsible use.
Scottish Planning Policy provides an approach for the planning system on:
Construction aggregates
coal
shale gas and coal bed methane
mineral resources
areas covered by petroleum exploration and development licences (PEDL).
Additional guidance includes:
Scottish Fossil Code – aims to help protect Scotland's fossils while encouraging public interest and responsible use.
Scottish Core Code (2011) – combats the growing problem of core holes defacing rock outcrops, provides guidance on responsible and environmentally-acceptable rock coring.
The following areas have completed geodiversity audits:
Edinburgh
West Lothian
East Dunbartonshire
Glasgow
East Lothian.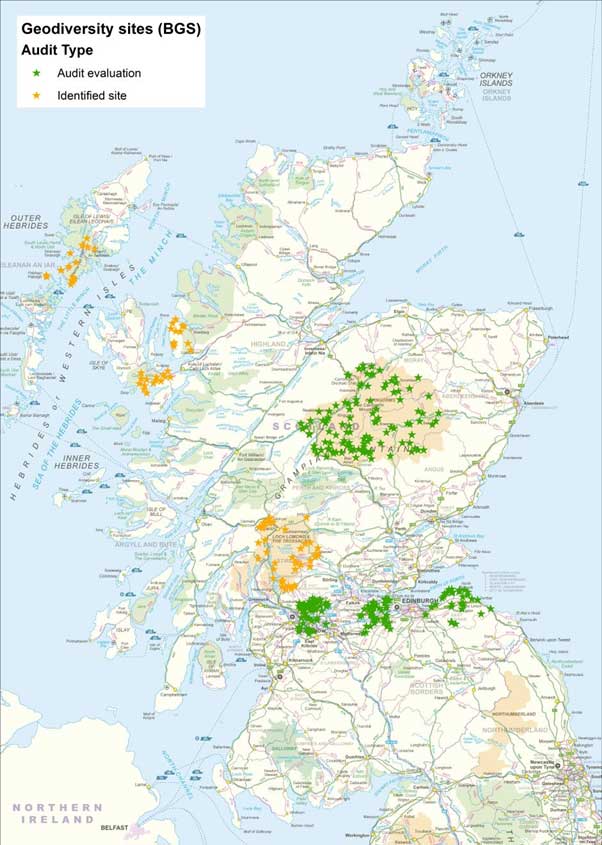 Map of geodiversity sites identified by British Geological Survey since 2007
As yet there are very few local geodiversity action plans (LGAPs) in Scotland.
These images are subject to copyright and are for single use only. Please contact Scottish Natural Heritage Image Library for further information, Tel: 01738 444 177 or imagelibrary@snh.gov.uk
---
This page was updated on 19 Nov 2019
Adobe Acrobat Reader is the free, trusted leader for reliably viewing, annotating and signing PDFs.
Download Adobe Acrobat Reader