The Riverfly Partnership is a network of organisations working together to protect and conserve the river environment. These organisations represent anglers, conservationists, entomologists, scientists, water course managers and relevant authorities. This UK-wide initiative provides a simple monitoring technique that counts the abundance of freshwater invertebrate animals to detect changes in the quality of river water. Using volunteers, the project helps to expand environmental monitoring capability and can act as a deterrent to would be polluters with the regular presence of regular volunteer sampling. John Clayton, a Senior Ecologist at the Scottish Environment Protection Agency (SEPA), tells us more.
John Clayton, SEPA, Senior Ecologist
April 24, 2018
Scotland's freshwaters are essential for our health and prosperity. As well as being used for drinking, water is used by industry, for energy production and for recreational activities. Scotland has more than 125,000km of rivers and streams varying from small highland burns to deep, wide lowland rivers, such as the River Tay. With such an extensive river network, it can be challenging to monitor this important habitat and natural resource.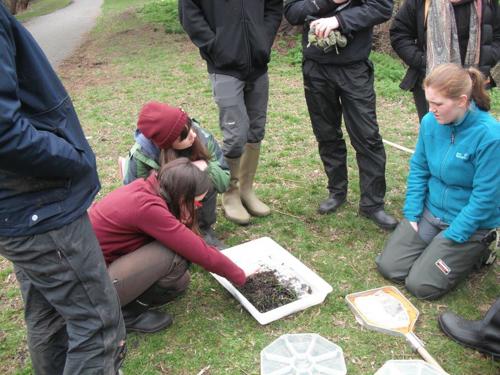 This is why projects like the Anglers Riverfly Monitoring Initiative (ARMI) are so important. Using volunteers to help monitor rivers, environment agencies have access to a much wider network of river monitoring data than they could ever collect by themselves. This means they can target more detailed investigation and remedial action in the areas that most need it. ARMI currently uses 2,000 volunteers to monitor 755 rivers, covering 3,000 sites throughout the UK.
Training volunteers on sampling methods and data recording is a key part of the project. Training is delivered in partnership with other organisations, such as the River Fisheries Trusts and RSPB community green space officers. Volunteers are trained to identify eight target groups of invertebrate families including mayflies, caddisflies, stoneflies and freshwater shrimps. These are then looked for in samples taken from rivers. If samples are below a trigger level set by the Scottish Environment Protection Agency (SEPA), then a pollution incident might have occurred. Officers from SEPA's Ecology Unit can then investigate further and report any problems to the local team of environment protection officers.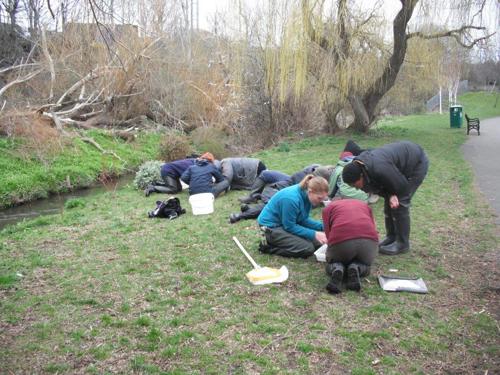 Sampling data is entered by the trained volunteers into the ARMI data base. This data is then available to view on the map once it has been checked by the ARMI group co-ordinator. There are also graphs on the ARMI website that plot the scores at sites and show these in relation to the warning (or trigger) threshold level.
Training
It was great to see an increase in the number of one-day training courses taking place in Scotland last year, with almost 50 new volunteers being trained. Already this year, the Loch Lomond Angling Improvement Association has submitted details of the sites that they intend to monitor on the Luss and Fruin Waters following their training course in 2017.
More training is planned for this year. The first of which kicked off in early April with a group of nine volunteers who will monitor the Braid Burn in Figgate Park, near Portobello. Although river levels were on the high side on the training day, it did not prevent the volunteers from taking samples and testing their newly gained riverfly identification skills.
River levels need to be regularly monitored as high levels can prevent planned training, and sampling, events. This is what happened at Kelvingrove last August, when training had to be postponed to this spring.
Building on the success of three training courses last year, the Forth Fisheries Trust have organised a further two courses - one in mid-May and one in mid-June. These are likely to be on the River Almond and should involve the Cramond Angling Club and the West Lothian Angling Association.
There is also the possibility of further courses on the River Annan and in Galloway, although no firm arrangements have been made yet.
Get involved
If you are interested in your local river environment and want to get involved in the Anglers Riverfly Monitoring Initiative contact the Riverfly Partnership for more information, and to find out if there is a local training course near you.
---
Adobe Acrobat Reader is the free, trusted leader for reliably viewing, annotating and signing PDFs.
Download Adobe Acrobat Reader