At the heart of the new waste data strategy lies partnership working and engaging with those that provide, analyse, communicate and use waste data. And this was evident when over twenty waste practitioners, including representatives from Scottish local authorities and private business, recently gathered to discuss the strategy, how it can be implemented and the future of waste data in Scotland. Gillian Flint from SEPA's Data Unit tells us more.
Gillian Flint, SEPA's Data unit
March 08, 2018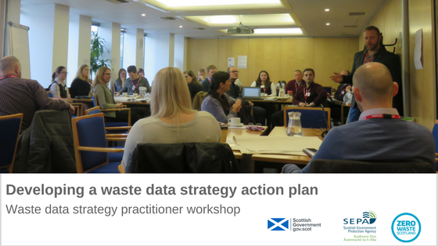 Organised by the Waste Data Strategy Delivery Board, the event focused on identifying the actions required to implement the recently published waste data strategy for Scotland.
During the day, participants worked in small groups to discuss their ideas for a range of activities that can help take forward the strategy's five priority actions. Inevitably the conversations went beyond the five actions and expanded to cover previous successes, current problems, future challenges and opportunities, and examples of work elsewhere. But it all helped to highlight what needs to be done in Scotland.
Common themes ran through the day's discussions, namely:
actions should support the circular economy, making clear what outcomes waste data can inform;
communication is key to supporting accurate reporting, collection and communication of waste data.
When it comes to taking the work of the strategy forward, there was clear support for future waste data practitioner workshops, including smaller focus groups to look at specific actions.
A summary of the outcomes from the workshop is available on the waste data strategy page of Scotland's environment website shortly.
---
Adobe Acrobat Reader is the free, trusted leader for reliably viewing, annotating and signing PDFs.
Download Adobe Acrobat Reader