Waste shipments enable resources to be transported for use in industries across the world, creating a valuable commodity from discarded materials. In a modern world where natural resources are increasingly scarce, waste shipments offer an alternative to the over-use of our planet's resources.
Laura Gillan, SEPA Graduate Trainee
April 04, 2019
Scotland lacks the capacity to reprocess the amount of waste that it generates and as such we currently export an estimated 1.5 million tonnes in a year.
Unfortunately this action is not always carried out in an environmentally sound manner with illegal waste disposal and inadequate treatment creating detrimental environmental and health impacts in receiving countries. Illegal shipments of electronic waste have caused these negative impacts to be realised in countries in Africa. The electronic waste is often concealed in shipments of other materials to avoid detection. Small quantities of metals from TVs, computers and other electronics are considered valuable resources but the lack of regulation regarding the treatment of material often results in the leakage of toxins into the environment.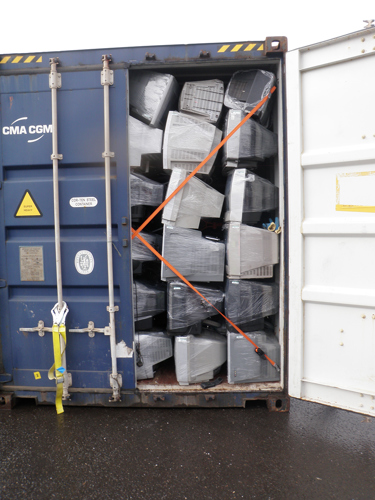 A shipment of electronics stopped on an inspection by SEPA on suspicion of being an illegal waste shipment. Electronics such as those pictured are permitted to be shipped to Africa as long as they are fully functioning and this is evidenced by Portable Appliance Testing (PAT).
The European Waste Shipment Regulation (EC) 1013/2006 was introduced to control waste shipments and improve environmental protection. Obligations are placed on Member States to carry out waste shipment inspections, to cooperate with each other, and to establish appropriate penalties and fines to deter illegal shipments.
The findings from Enforcement Actions V - a project from the Implementation and Enforcement of Environmental Law, Waste and Transfrontier Shipment of Waste - have shown that illegal waste shipments continue to be prevalent. Of the 22,270 transport inspections undertaken by the countries participating in the project throughout 2016 and 2017, 5,821 (26%) were waste-related and 1,873 (32%) of those were violations.
Data is an invaluable tool for competent authorities seeking to enforce the waste shipment regulations and eradicate the illegal waste trade. Data derived from inspections carried out during Enforcement Actions V and previous projects has highlighted the most problematic waste types and destinations for waste shipment violations. This has enabled inspections to become more targeted and increased the chances of uncovering illegal shipments. Risk assessments were the chosen inspection selection method for 79% of all inspectors surveyed in EA V emphasising the importance of having accurate data to inform decisions. The next phase of the project will continue to build on this data set and new developments in online inspection reporting will aim to improve consistency.
You can find out more about the Enforcement Actions V project by reading the case study: European Waste Shipment Regulation: Enforcement Actions V on the Waste data strategy page.
Information on the next phase of the project is available at www.sweap.eu.
---
Adobe Acrobat Reader is the free, trusted leader for reliably viewing, annotating and signing PDFs.
Download Adobe Acrobat Reader