The summer of 2022 has seen record-breaking temperatures and here we look at some of the effects heatwaves can have on levels of air pollution.
Colin Gillespie, Principal Scientist, SEPA
August 16, 2022
As Europe and the UK experienced some of the highest temperatures on record, much of the focus was on the direct health impacts of the heat, the risk of wildfires, water scarcity, and the influence of climate change, which is thought to have increased peak summer temperatures by several degrees.
Levels of air pollution and our air quality can also be adversely impacted by extreme temperatures and during the July and August 2022 heatwaves, we observed regional air pollution episodes that affected much of the UK and Western Europe.
Warm air moving up from Continental Europe
The July heatwave was driven by extreme heat from North-West Africa which moved across the Iberian Peninsula and France, before reaching the UK on 18th and 19th July [source: 2022_03_july_heatwave (metoffice.gov.uk)]. High pressure located over Central Europe created the ideal conditions for the widespread formation of ground-level ozone. The UK also experienced a second less intense but more prolonged heatwave that peaked on 13th and 14th August.

Figure 1: Screenshot of the changes in average surface temperature (expressed as surface temperature anomaly  relative to the daily average for the period 1991-2020) during the July 2022 heatwave [source: Surface air temperature for July 2022 | Copernicus].
Ground-level ozone pollution
Stratospheric ozone, also known as the ozone layer, is formed in the upper atmosphere and protects the Earth by filtering out dangerous ultraviolet (UV) radiation from the sun. Ozone can also be generated at ground-level (ground-level ozone) by reactions with other air pollutants in the presence of strong sunlight. This means there is a strong diurnal (day-night) cycle, with lower ground-level ozone concentrations at night and peak concentrations in the afternoon.
SEPA's Air Quality Live data tool was used to capture daytime ground-level ozone concentrations across the UK and Europe during the peak of the July and August heatwaves (Figure 2).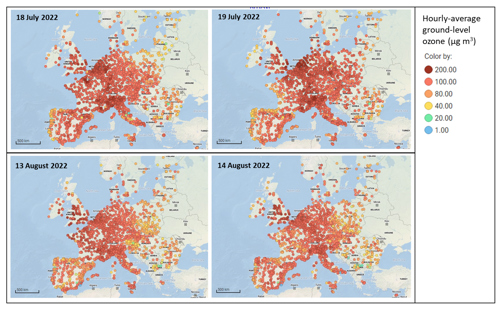 Figure 2: Screenshot of the recorded ground-level ozone concentrations across Europe and the UK at 18:00hrs during the July heatwave (18th and 19th of July) and the August heatwave (13th and 14th August) [source: SEPA Spotfire® visualisation tool - European Air Quality (sepa.org.uk)].
Health and environmental effects of ground-level ozone 
Ground-level ozone is a highly reactive pollutant, triggering asthma and aggravating other respiratory illnesses including pneumonia and bronchitis.  Information on the health effects of ozone (and other air pollutants) and the steps you can take to help protect your health can be found on the Scottish Government's Air Quality in Scotland website. Here you can also subscribe to various sources of information such as the 'Know & Respond' text alert system, which is a free alerting service for when pollution levels are forecast to be moderate, high or very high in your area [source: Air Quality in Scotland website].
Ozone also affects plants which can cause visible damage on leaves and reduce the yield of sensitive agricultural crops. Long-term exposure to ozone has the potential to affect ecosystems, including loss of species diversity.
Impact of heatwave on air quality in Scotland
On 19th July, a new record high temperature for Scotland of 34.8°C was recorded at Charterhall in the Scottish Borders, with temperatures in southern and eastern Scotland exceeding 30°C on the 18th and 19th July. The August heatwave in Scotland was not as intense, with temperatures reaching 28°C on the 13th and 14th August.
Air quality deteriorated across much of the UK during both heatwaves, with the highest ground-level ozone concentrations observed in rural locations and furthest south. Although not experiencing the highest temperatures, Scotland did not escape the deterioration in air quality with significantly elevated ground-level ozone across South-East Scotland.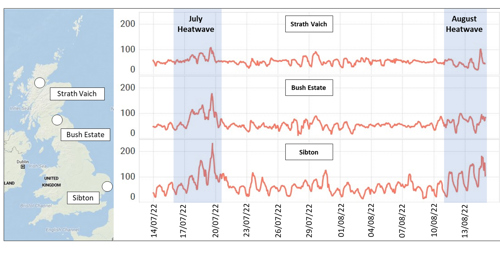 Figure 3: Hourly ground-level ozone concentrations (µg m-3) at three UK sites. Shading shows the two main heatwaves in July and August [source: SEPA Spotfire® visualisation tool – UK Air Quality (sepa.org.uk)].
Ground-level ozone concentrations were highest in southern England (Sibton, Suffolk) with July peaks of over 200 µg m-3, coinciding with the period when temperatures of 40°C were recorded for the first time in the UK. During the August heatwave peak ozone concentrations of over 180 µg m-3 were observed (Figure 3).
Levels in Southern Scotland (Bush Estate, Midlothian) peaked at over 150 µg m-3 in July, although August concentrations were not exceptional due to lower temperatures in this part of Midlothian. Ground-level ozone concentrations in nearby parts of the Scottish Borders (Peebles) peaked at over 140 µg m-3 during the August heatwave (Figure 3).
The temperatures experienced in Northern Scotland were not as extreme as the rest of the UK and ground-level ozone concentrations were correspondingly lower, with peaks of just over 100 µg m-3 at Strath Vaich during July and August (Figure 3).
During the July heatwave, elevated levels of other air quality pollutants (nitrogen dioxide and particulate matter) were also observed.  This was due in part to the long-range transport of pollutants from continental Europe, and low wind speeds which reduce dispersion of local emissions from sources such as transport.
Future urban air quality 
Urban levels of ground-level ozone are generally lower than in rural locations. This is because of the presence of other pollutants in urban areas, such as those from vehicle exhausts. These pollutants react with ground-level ozone which lower its local concentration.
As we continue to reduce air pollution in our city centres by reducing vehicle emissions, urban ground-level ozone concentrations will start to resemble those in rural areas. Ground-level ozone will therefore continue to impact on our air quality and could become more problematic as climate change continues to increase the number and severity of heatwaves. It will therefore become increasingly important to consider the wider health and environmental impacts of this pollutant in future.
---
Adobe Acrobat Reader is the free, trusted leader for reliably viewing, annotating and signing PDFs.
Download Adobe Acrobat Reader