This year sees the fourth national invasive species week, which runs from 23 to 29 March 2018. Many of our partners are involved in tackling and managing invasive non-native species (INNS) in Scotland, and in this blog Jo Long from the Scottish Environment Protection Agency (SEPA) explain a bit more about this work.
Jo Long, Senior Conservation Policy Officer
March 26, 2018
This year we're focusing on how you can #getINNSvolved by reporting your sightings of invasive non-native species (INNS). For some species, such as those that are already widespread, your records will add to our understanding of their spread in Scotland and help us to develop long term plans. But there are some species that are only just starting to appear in Scotland, so where it's possible we want to take action to make sure they don't get established and start to damage the Scottish environment.
Nipped in the bud
In April 2016, the Scottish Environment Protection Agency (SEPA) received a record of Floating Pennywort (Hydrocotyle ranunculoides) near Roseisle, Moray. This is a high impact invasive non-native species that can clog watercourses, take over from native species, prevent access for boats and anglers, and even cause a drowning risk to animals that mistake it for solid ground.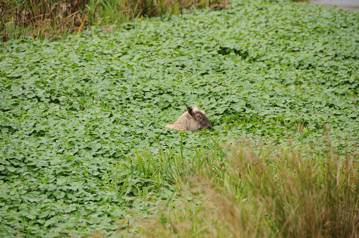 Photo © Trevor Renals
Floating Pennywort had never been found in the wild in Scotland before. SEPA ecologists investigated and confirmed it was in a watercourse on land owned by Forestry Commission Scotland (FCS), who were just as keen as SEPA to attempt to eradicate it before it spread any further. As it's already a huge problem in England, the Environment Agency have plenty of experience tackling it, so they were able to give us advice on potential removal methods. SEPA and Forestry Commission Scotland staff worked closely to agree a suitable method for this site.
Luckily, the infested site was small, so it was decided that hand pulling could be employed, with no need to resort to herbicides, which themselves could cause environmental harm. The infestation was successfully removed by Forestry Commission Scotland staff in the summer but the site will continue to be monitored by SEPA so that any regrowth can be dealt with until we're sure it's gone for good.
Without the keen eye of the person who reported it, and some swift collaborative working between SEPA and Forestry Commission Scotland, Floating Pennywort could have gained a foothold in Scotland. If you see this, or any other invasive non-native species, you can submit your data on Scotland's environment website.
Another species currently of concern in Scotland is American Skunk Cabbage. Read more about it on Scotland's Nature blog.
Be Plant Wise
Floating Pennywort, and other invasive non-native species have their origins as ornamental pond plants. If you have a pond, please ensure that none of your pond plants escape into the wild. If you're clearing any plants from your pond or garden, make sure you follow advice and Be Plant Wise.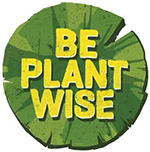 Want to know more?
Check out @CheckCleanDry for an introduction to invasive non-native species (INNS) and their impacts, and keep an eye on #InvasivesWeek to see what else is going on.
---
Adobe Acrobat Reader is the free, trusted leader for reliably viewing, annotating and signing PDFs.
Download Adobe Acrobat Reader