Mention 'Scotland' and 'history' to anyone and they'll no doubt have images of castles, kilted warriors and Nessie running through their minds. And while these are all notable parts of our heritage, they are by no means all we have to offer.
Scotland's environment web
April 18, 2016
Scotland has a wide and varied historic environment. Ranging from neolithic monuments, ancient remains, and historic shipwrecks, to iconic engineering, impressive cityscapes and stunning natural heritage.
It's importance should not go unnoticed: it not only connects us to our past but also makes a valuable contribution to our economy, attracting millions of visitors each year and generating income and jobs.
And as it's World Heritage day, what better excuse is needed to take a closer look and celebrate our fabulous historic environment.​
Our environment, whether rural or urban, on land or underwater, has a historical dimension that contributes to its quality and character. It has been shaped by human and natural processes over thousands of years. This is our historic environment. And in Scotland this is rich and diverse.
Our built heritage spans thousands of years. From standing stones, early burial mounds and medieval buildings to eighteenth century industrial towns, country houses and designed landscapes. But it's not just the built environment that makes up our historic environment. It is also our ancient forests, art, stories, poems, traditions and language associated with historical people and places.
As well as being indispensable to the study of history and archaeology, our historic environment contributes to Scotland's national identity, culture, economy and well-being. It links us to our past and under pins our sense of cultural identity, and can act as a catalyst for creativity and new design. It makes a substantial contribution to our economy, with an estimated £3.1 billion generated per annum from tourism and the construction industry. Our historic environment also improves our surroundings, where we live and work, enhancing our sense of well-being, and presents opportunities for volunteering and education.
You can learn more about the importance of our historic environment on the Historic Environment Scotland and Scotland's environment websites. The interactive map tool also allows you to search for historic features near you, including listed buildings, battlefields, scheduled monuments, gardens and designed landscapes, properties in care, conservation areas, historic marine protected areas and world heritage sites.
But Scotland's historic environment is under pressure. Human activities as well as the weather, mean that it is subject to constant change. Inappropriate development and lack of maintenance can quickly reduce the value of buildings and other historic features. You can find out which buildings around Scotland are at risk on the buildings at risk register for Scotland and learn more about the state of scheduled monuments from Historic Environment Scotland.
One of the biggest threats to our historic environment comes from climate change, with many historic sites and landscapes being vulnerable to coastal erosion, rising sea levels, flooding and increased storminess. You can read more about the impact of climate change in Ewan Hyslop's (Historic Environment Scotland) climate change blog or visit the Scottish Coastal Archaeology and the Problem of Erosion (SCAPE) website.
There are strategies and policies in place to help protect and manage our historic environment, including the Scottish Government Our Place in Time strategy published in 2014. But there are also lots of ways you can get involved and help preserve our historic environment. From learning about and visiting historic sites and joining local historic groups to volunteering at sites or on projects. For example, the Scotland's Coastal Heritage at Risk project (SCHARP) trains and supports volunteers to collect valuable data about vulnerable coastal heritage sites to provide an up-to-date picture of Scotland's coastal heritage and identify sites for further action. Our historic environment is irreplaceable and we should protect it for future generations.
Working in the environment
Need to know about landscape-wide spatial data relating to the historic environment or got an interest in how Scotland's landscape is changing? Find out about the Historic Land-use Assessment map project, how it is digitally mapping past and present land use in Scotland and how you can access the data.
Plus take a look at the new public body responsible for Scotland's historic environment.
The changing face of Historic Scotland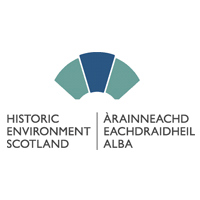 Historic Environment Scotland, a partner of Scotland's environment web, is the new lead public body for the country's historic environment. It brings together Historic Scotland and the Royal Commission on the Ancient and Historic Monuments of Scotland.
Find out more about Historic Environment Scotland and what this means for our historic environment.
Land use mapping
The Historic Land-use Assessment project (HLAmap) is digitally recording land use across Scotland. The result is a Scotland-wide view of land use in both modern and past times, and proves a great tool to help decipher the broad elements of our historic environment.
Using simple annotated maps, professionals and interested individuals alike can explore land use and how Scotland's landscape has changed over time. HLAmap can be viewed online or downloaded for customised use in GIS software. Read more about how HLAmap can be used in development and landscape planning and for local studies.
Best LIFE Environment project award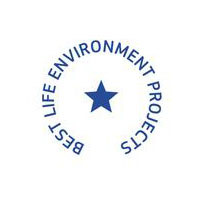 Scotland's environment web is delighted to share the news that the Scotland's environment web (LIFE) project has been selected as one of the 24 Best LIFE Environment projects for 2015.​
Out of the 113 LIFE funded projects that came to an end and were evaluated in 2015, the Scotland's Environment Web (LIFE) project was one of the 24 projects selected for the Best LIFE Environment project award.
LIFE is the EU's financial instrument supporting environmental, nature conservation and climate action projects throughout the EU.
An awards ceremony will be held in Brussels on 31 May to coincide with European Green Week. During the ceremony, five of the 24 Best projects will be awarded the 'Best of the Best' award.
As one of the 24 Best LIFE Environment projects, Scotland's environment web has also been put forward for the LIFE Citizens' Award. The public are being asked to vote for their favourite project and the winner will be revealed at the LIFE Environment Best Project Awards.
A big congratulations to all who have contributed to the project over the last four years and fingers crossed for the 31 May!
Business Boost
This month, find out about:
the Scottish Forestry's training course on managing the historic environment in and around forests and woodlands;
the Land Information Search tool that helps you search for information on sensitive heritage sites when applying for forestry felling licences and SRDP grants.
Forests and historic environments
Need to know how to manage the historic environment found in and around Scotland's forests and woodlands? Then the Forestry Commission Scotland online training course could be just what you're looking for.
The course is designed specifically for woodland managers, promotes best practice in conservation management and looks at how to develop forest management plans with respect to the UK Forestry Standard (UKFS) Forests and Historic Environment Guidelines.
Forest felling licences & SRDP grants
If you're applying for a forest felling licence or SRDP grants (e.g. Agri-Environment Climate Scheme and Forestry Grant Scheme), you need to be aware of any environmental and historical features that might be impacted by your proposal. To find out what sensitive heritage sites are in your particular area of interest, you can use the Land Information Search for Agri-Environment and Forestry. This searches and locates features such as battlefields inventory, schedule monuments and listed buildings.
Serious science - A monumental challenge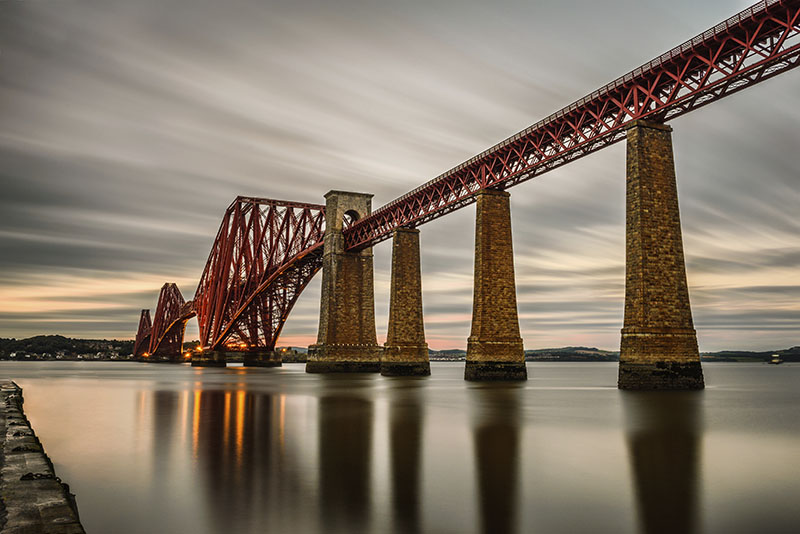 As the Scottish Ten digitalisation project moves into its next stage, Digital Documentation Manager Dr Lyn Wilson unveils one of the biggest challenges - the Forth Bridge goes digital.
"Over the last five years, our combined team has been working its way around Scotland's UNESCO World Heritage Sites and five international heritage sites digitally documenting each in glorious 3D, to provide accurate and robust data and models for use in conservation and heritage management, and to aid interpretation and learning. But no project across the globe has proven to be a greater technical challenge than the Forth Bridge."
Everyday is a school day

Whether you're interested in prehistoric sites, ancient forests or castles, there are a whole host of resources and activities out there to help you discover and learn about Scotland's rich historic environment.
Historic Environment Scotland offer a wider range of options for learning, from free education visits and school resources to guided tours and talks.
Looking for an activity to do with your class? Search their online programme of interactive activities for schools at locations across Scotland. Linked to the Curriculum for Excellence and available at Early Years, Primary and Secondary levels, there's something for everyone.
Historic Environment Scotland also has learning resources that can be downloaded for free to help make the most of your visit to an historic site. These include themed resources on people and events, site guides, homework helpers and handling boxes to help bring your visit to life.
Hidden in amongst many of our woodlands and forests you'll find ruins of ancient settlements, remains of World War II defences and industrial heritage sites. Forestry and Land Scotland has some great resources to help you discover all these and more. Check out their resources before you visit one of their forests and bring forgotten places back to life.
5 things you didn't know about... Scotland's World Heritage Sites
Scotland has six World Heritage Sites - Heart of Neolithic Orkney, St Kilda, the Antonine Wall, Forth Bridge, Edinburgh Old and New Town, and New Lanark.
World Heritage Sites are recognised as places of internationally significant cultural or natural heritage and considered to be of importance for future generations.
St Kilda is one of the few World Heritage Sites that is designated for both its natural and cultural qualities.
The Antonine Wall, the north-west frontier of the Roman Empire, wasn't a stone wall but was a turf rampart fronted by a wide, deep ditch.
New Lanark, a small 18th-century village in South Lanarkshire, remains a thriving community with a resident population.
Video of the Month
Want to know more about what the historic environment is and why it's important to Scotland? This great wee video explains it all.
Top tip.... If you only did one thing
Help celebrate Scotland's six World Heritage Sites!
Join Historic Environment Scotland in a day of free, fun activities to celebrate World Heritage day on Monday 18 April 2016. Taking place at the National Museum of Scotland in Edinburgh, the activities will focus on Scotland's six World Heritage Sites, so you can learn more about each of the unique sites.
And if you can't make it along to the museum, why not visit one of Scotland's World Heritage Sites to learn about it first hand. Find out more about each of the six sites and how you can visit them on the Historic Environment Scotland or Scottish ten websites. 
---
Adobe Acrobat Reader is the free, trusted leader for reliably viewing, annotating and signing PDFs.
Download Adobe Acrobat Reader