When asked how we benefit from Scotland's environment it's likely that biodiversity springs to mind; our varied landscape – from coastal shores to mountain tops - and the wide range of plant and animal life it supports.
Scotland's environment web
September 29, 2016
You might also think of our economy; the millions of visitors attracted to Scotland each year to enjoy it, and our land and sea a source of quality food and drink . But you might not have thought about the health and wellbeing benefits, and that the environment acts as our very own natural health service.​
The idea that the environment can affect health and wellbeing is not a new concept. We have long recognised the connection between a poor environment (air and water pollution, poor living conditions etc.) and poor health. But until recently, the idea that the environment can have a positive impact on improving our health and wellbeing hasn't really been explored. There is now a growing evidence base that shows that being out in our environment has substantial health benefits. And it doesn't have to be out in the wilder areas of Scotland for you to benefit. From a walk in the park or pottering around your garden, to biking through a forest or sailing on a loch, all interactions with the natural environment and associated green infrastructure (parks, greenspaces, path networks, gardens etc.) play an important part in improving physical and mental health and wellbeing.
There is a careful balance to maintain though. As although we want to encourage people to get out and about and enjoy Scotland's environment, reaping the benefits to their health that this brings, we need to ensure that we are not inadvertently causing damage to environment in the process.
Understanding this relationship between our environment and our health and wellbeing helps us to better manage our environment and shape how we work together to deal with environmental and human health issues.
Learn more about our environment as a natural health service
Scotland's environment web has a wealth of information and data to help you explore and learn more about how Scotland's environment acts as a natural health service and how it can benefit your health and well-being.
In the State of Scotland's environment report – Recreation video, Rob Garner from NatureScot, explains more about outdoor recreation and how getting out and about in Scotland's environment, whether urban or rural, can benefit your health and wellbeing. You can find out more about how managing our environment can improve the quality of life, health and wellbeing of Scotland's people.
Explore Scotland's environment using our maps. Whether you're interested in where you'll find greenspace, country parks or footpaths so you can get out and enjoy our environment, or want to know more factors that might affect your health, like air quality or bathing water quality, there are a wide range of map layers for you to explore.
Volunteering on environmental projects can help boost health and wellbeing; it's not only a great way to meet new people, learn new skills and get active outdoors, but can also improving confidence, empower the vulnerable or disadvantaged, and help people to feel part of the community. Check out project finder for information on projects near you.
A word from our partners
Find out what our partners are doing to help you enjoy the benefits of our natural health service, and how you can get involved.
Developing our natural health service
NatureScot is playing an avid role in championing the natural health service concept and working with a wide range of partners from the environment and health sectors to demonstrate the health benefits from physical activity outdoors and regular contact with nature. This new and exciting area of work builds on their existing key activities in this area, including Green Exercise partnership, NHS Greenspace demonstration project, and Green Exercise Projects.
A plan for action
There is growing interest in the development of the natural health service concept in Scotland, which seeks to bring the health and environment sectors closer together to maximise the contribution of the natural environment to the protection and improvement of population health. Working with the environment and health sectors, NatureScot is leading the development of an action plan, which has been endorsed by the Rural Affair, Food and Environment Delivery Board and the National Strategic Group on Physical Activity.
At the core of the action plan are three strategic interventions that will pilot coordinated and up-scaled approaches to increasing physical activity levels and improving mental health and wellbeing in key segments of the population. These population level interventions will involve up to six area health boards and eight local authorities covering areas of urban and rural Scotland that experience health inequalities, disadvantage and low levels of physical activity. Other work will address the need to improve current provision and practice in local and national green exercise programmes, improvements to the provision of information, training and awareness-raising of the benefits of green exercise and evaluation of the impact. Read more about this work on the NatureScot website.
Overview for stakeholders 
The NatureScot website hosts a range of information tailored for health professionals.  Partnership working between the health, transport and environment sectors plus others contributes to addressing some of Scotland's key health issues:  physical inactivity, mental health & wellbeing, and health inequalities.
Green Exercise Partnership activity with NHS Health Scotland, Scottish Natural Heritage and Forestry Commission Scotland seeks to to raise awareness of the range of health benefits that being in and being active in the outdoors can bring, and the contribution that green exercise can make to a Healthier Scotland if it is embraced by the health and social care sector.
NHS Greenspace demonstration project aims to improve greenspace quality and use on at least one hospital or healthcare facility in each NHS health board in mainland Scotland.  Examples of the range of healthcare settings that have been included in the demonstration project include Forth Valley Royal Hospital near Falkirk, Ailsa & Ayr hospitals, Gartnavel Hospital in Glasgow, New Craigs Hospital in Inverness and a number of new-build Community Health Centres e.g. Possilpark in Glasgow. You can also find further information on the project on the NHS Scotland website.
In addition, the Green Infrastructure Strategic Intervention funding programme led by Scottish Natural Heritage aims to enhance greenspace provision in Scotland's towns and cities, especially close to deprived areas.
Green Exercise projects which aim to encourage people to benefit from nature based activities in order to become more active, increase wellbeing or have more social contact. These projects illustrate how Scottish Natural Heritage's work supports disadvantaged groups and helps to reduce inequalities amongst less active groups e.g. older people, those with dementia etc. Recent partnerships include work with Dundee City Council Ranger Service on their Green Exercise initiatives; work with Cyrenians providing NHS therapeutic gardening as an alternative to inpatient treatment and medication; support for The Conservation Volunteers' Green Gym Programme; and the Scottish Association of Mental Health (SAMH), for the improvement works at Redhall Walled Garden, Colinton Dell, in Edinburgh.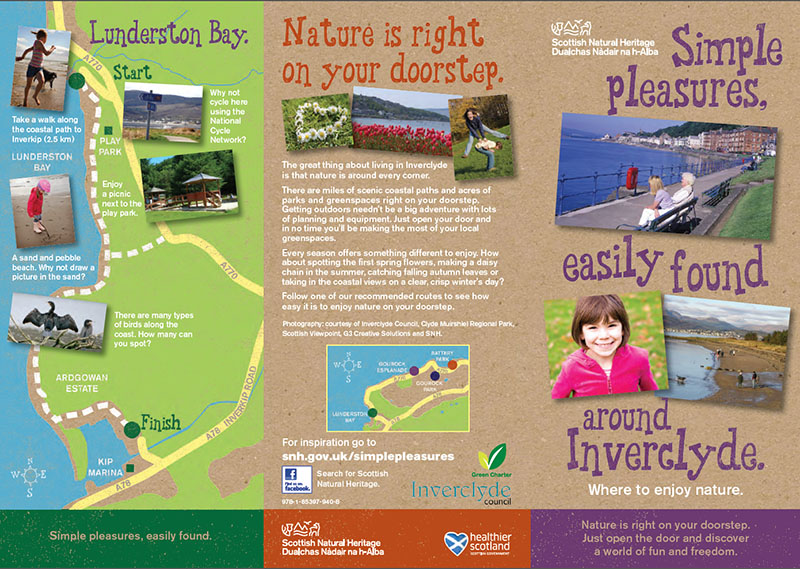 NatureScot works in partnership with many organisations to help encourage more people to gain health and wellbeing benefits from engaging in the outdoors and green exercise. On their website you'll find loads of information, ideas and local route guides to help you get out and about to enjoy the outdoors.
Scottish Natural Heritage has a wide range of information available if you are interested in reading further, including case studies and supporting evidence. Please contact Bridget.Finton@snh.gov.uk or Suzanne.Downey@snh.gov.uk if you would like to find out more.
Woods for Health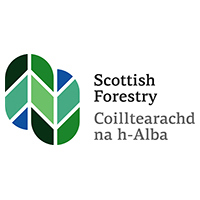 Trees, woods and forests can play a key role in helping to promote better physical and mental health for all by providing greenspace environments where people can be physically active and recover from stress. Forestry Commission Scotland has teamed up with Community Health Care Partnerships and NHS Boards to encourage the use and enjoyment of greenspace by all.
The Forestry Commission Scotland's Woods for health strategy sets out how they can help promote opportunities in our green environment, particularly through trees, woods and forests, to improve the health and life expectancy of Scotland's people and reduce health inequalities in Scotland, and support the health sector to make better use of the outdoor environment in health care.
On the Woods for health – our health strategy section of the website you'll also find some interesting case studies from joint projects between Forestry Commission Scotland and other partners to encourage the use of greenspace in hospitals across Scotland, and a section looking specifically at how the woodland environment can benefit people with early stage dementia by offering meaningful experiences and increasing feelings of self-worth.
If you're planning to get out and enjoy Scotland's woodlands and forests, there's loads of information about where to visit and the activities you can do – from walking and watching wildlife to the more extreme activities such as mountain biking and tree top trails. There's also a section all about enjoying our woodlands in autumn.
And if you're looking for inspiration, the Tales from the forest blog is well worth a read. Latest posts include 'Foraging: eat your way closer to nature' and 'Into the wild', which is full of useful information about camping.
Green gym – Exercise to make a difference
Unlike many conventional gyms, taking part in The Conservation Volunteers Green Gym® scheme is free and a great activity too, allowing you to meet new people, learn new skills and work together to transform your local area. During these fun outdoor sessions, participants are guided in practical activities such as planting trees, sowing meadows and establishing wildlife ponds. The scheme has proved a huge success in urban centres and is now prescribed by GPs to patients to encourage them to improve their health and wellbeing. Find out more about Green Gyms and how The Conservation Volunteers are working closely with mental health charities and other partners to maximise the benefits to participants.
Benefits from nature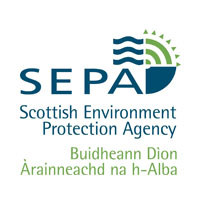 Our health and wellbeing is reliant on natural services that the environment provides. As Scotland's environmental regulator, SEPA has a key role to play in protecting our environment so that we can continue to benefit from these natural services.
One of the ways SEPA does this is by assessing how activities and decisions affect ecosystems and the services they provide. This helps determine the best options to optimize benefits and minimize adverse effects. Read more about this approach and ecosystem services on the SEPA website.
SEPA also feeds into the land use planning system, providing environmental advice to planning authorities, developers and the wider public. In this role they provide advice about sustainable place making and the location, siting and design of regulated facilities to protect human health and achieve sustainable resource use. See the SEPA position statement on land use planning, health and wellbeing for more information.
The SEPA website also has a wealth of information about the health and wellbeing benefits from nature. In the Making the case for the environment series you can meet and read the stories of how our water environment enriches people's lives, watch the 'Our soil matters' video on recreation and hear how soil contributes to our wellbeing, and read about the wider benefits of improving urban air quality. There's also information about the role forestry can play in health and wellbeing, and if you're interested in green infrastructure there are lots of interesting articles on SEPA View.
Outdoor learning - inspiring confidence and wellbeing
Education Scotland
Outdoor learning experiences inspire passion, motivating our children and young people to become successful learners and to develop as healthy, confident, enterprising and responsible citizens. On the Education Scotland website you can explore how outdoor learning can benefit learners and how it links to the Curriculum for Excellence, as well as guide, resources and helpful information on planning, delivering and evaluating outdoor learning. 
Field Studies Council
The Field Studies Council (FSC) has a network of 18 centres across the UK, and works with over 140,000 people every year providing outdoor learning, fieldwork and environmental courses. In Scotland, the Field Studies Council run the centres at Kindrogan and on Millport.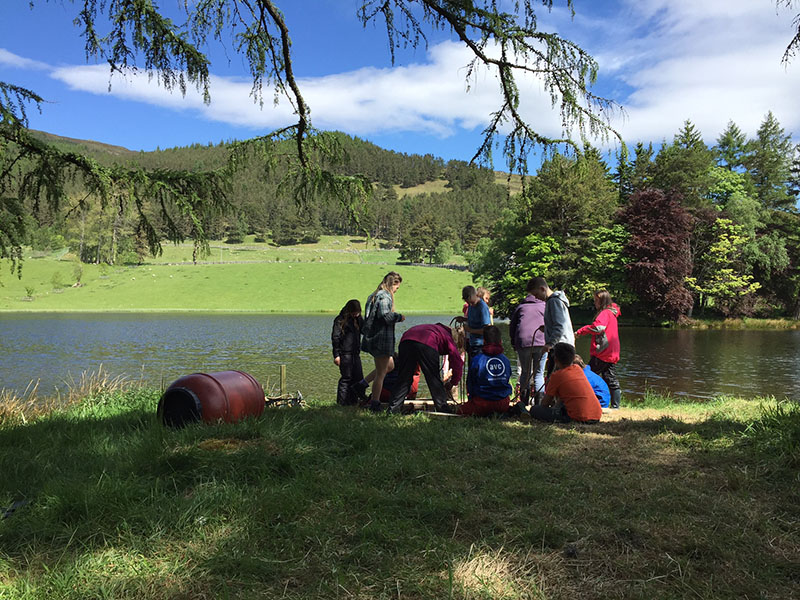 Kindrogan
Whether dashing up Kindrogan hill, jumping of our high ropes course in the woods, or searching high and low for creatures in the local streams, the focus is on helping the young people have a great time while working together to learn about the special environments they are exploring. The courses link closely to the Curriculum for Excellence and have strong literacy and numeracy links but deep down, the priority is making sure that children love being outside learning about this special highland landscape.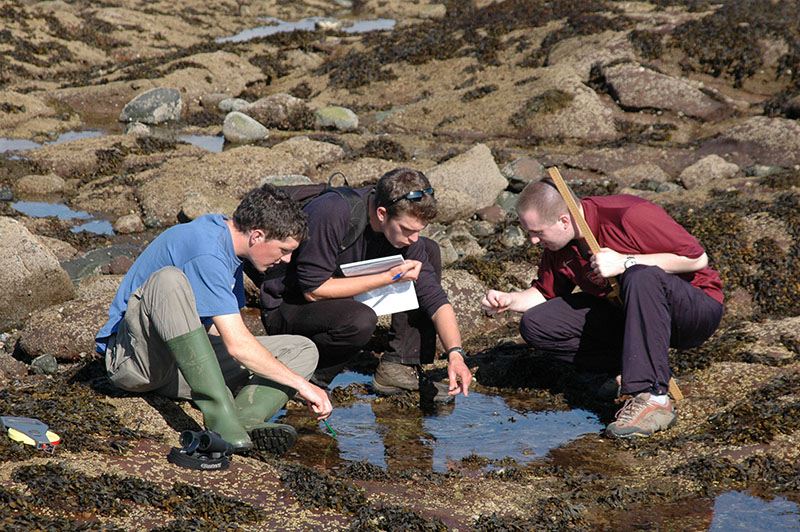 Millport
Throughout its history Millport has had a strong focus on tertiary education, from Glasgow teacher training courses back in the Edwardian period through to the last 40 years with the University of London running the site. And this remains the case today. Gifted the centre in 2014, the Field Studies Council has carried out extensive redevelopment, improving accommodation, teaching spaces and the aquarium and museum, allowing them to increase the number of undergraduate courses taking places at the centre. Students now attend from universities across Scotland and England, and even from as far a field as Malta and America.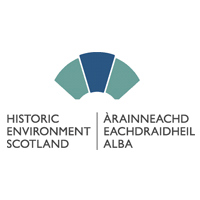 Historic Environment Scotland
Learners of all ages can engage with their local heritage, find creative inspiration, and feel fitter and healthier thanks to outdoor learning opportunities available through Historic Environment Scotland. Whether it's a family day out, a focus for a community group or study opportunities for lifelong learners, the past help you make connections and get involved. Find out more on the Historic Environment Scotland website.
---
And finally...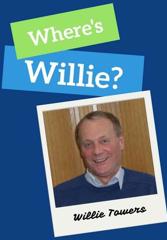 We'd like you to meet Willie Towers - a colleague and former member of the Scotland's Environment editorial team. Willie is currently enjoying his retirement but is by no means taking it easy. Instead he's off exploring Scotland's fabulous environment.
As he explores Scotland, both near to home and further afield, he'll be sharing his adventures - and thoughts - with us in our new feature, the 'Where's Willie?' blog.
Look out for Willie's first post appearing in your inbox soon, where he'll be sharing his experience of a trip to the remote islands of St Kilda.
---
Adobe Acrobat Reader is the free, trusted leader for reliably viewing, annotating and signing PDFs.
Download Adobe Acrobat Reader