Today is international GIS Day (15 November) - a day to learn more about geography and the uses of geographic information systems (GIS). And what better day to launch our next series of the Scotland's environment blog, which is all about our new map and spatial data. This November we bring you Mapvember
Scotland's environment web
November 15, 2017
Scotland's environment web has developed tools that bring together environmental information and data in one place so that it is easy to search and view. Having access to spatial data from multiple sources can open up new insights into the environment around us, helping us to make better decisions and influence new actions to protect and improve our environment.
Spatial data underpins so much of what we do - knowing where there are important and protected sites or places that are sensitive to environmental change; carrying out assessments to understand the environmental impact of things that are happening or might take place in the future; recording site specific data about the local environment; learning at school about place, science and geography; or just understanding more about the very environment in which we live and work.
Over the years there have been so many changes to the way in maps are developed. Gone are the days when specialised cartographers and cartographic staff (designers, researchers, place-name compilers, typographers, draftsmen, editors) worked for months or years toward the production of a single map or atlas plate.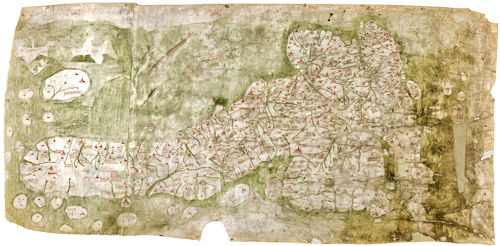 The Gough Map or Bodleian Map - a Late Medieval map of great Britain. North lies to the left of the map. It is thought it was compiled using information gathered from Edward I's military expeditions. (Source: Wikipedia https://commons.wikimedia.org/wiki/File:Gough_Kaart_(hoge_resolutie).jpg)
Modern day map makers are now GIS analysts, data scientists and app developers. Almost anything can be studied from a geographic point of view. Technologies, previously restricted to military uses such as GPS and remote sensing, can now, with the use of internet, web mapping services and software applications, contribute to the use of more and more map-based applications that we use everyday.
In its first six years since its launch in 2005, Google Earth was downloaded more than 1 billion times. So it's no surprise that our most popular data viewing tool is Scotland's environment map. It pulls in data from a wide range of sources (data published by our partners) and allows you to view it, in any combination, on a single map. This is the only place you can do this with Scottish environmental spatial data. The map has undergone a major overhaul recently - take a look at our story map to find out more about how you can use the Map tool to discover more about your local environment and places of interest.
So what can you expect from our Mapvember blogs to celebrate all things GIS and maps available on Scotland's environment?
You'll be able to meet the people behind the map - our partners, who are responsible for managing and publishing spatial data, and the development team, who are working hard to make spatial data more accessible, managing the 200+ data sets that feed the map, and developing the new Map tool with input from you, our users.
Want to know more?
Not visited Scotland's environment map yet? Why not take a look today.
Find out more about GIS in this great wee video from Esri
And if you want to know more about why maps are important take a look at the Esri video 'What is the big deal about maps?'
---
Adobe Acrobat Reader is the free, trusted leader for reliably viewing, annotating and signing PDFs.
Download Adobe Acrobat Reader