As users, we interact with maps and spatial data on daily basis. But do we give much thought to how these applications are developed? How does all of this data reach the map applications that we use? And who builds them?
Scotland's environment web
November 21, 2017
Data goes on a long journey before it reaches Scotland's environment map; spatial data services are published by our partners and metadata (information about the data) is added to the Scottish Spatial Data Infrastructure (SSDI) portal by data owners [We'll explain more about SSDI and spatial data from our partners in a later blog post]. Scotland's environment web then harvests 220 (and growing) environmental spatial data and associated metadata from SSDI.
Because data is being consumed by Scotland's environment web from many different sources for use in a data application, each web map service has been individually entered into a data store that applies a consistent and structured format across all of the different data sets. This allows the Scotland's environment map tool to quickly draw on the specific information it needs to allow users to search and view spatial data.
There is a considerable amount of effort and skill that goes into developing and maintaining the mapping tools we all know and love. So as part of our Mapvember series, we want to explain more about this and introduce you to the team of people behind the maps.
Meet the team
We had a chat with the members of the team in the Scottish Environment Protection Agency (SEPA) responsible for spatial data and development of the Scotland's environment map, to find out more about what they do. In this blog we meet Chris Sweeney, Data Analyst.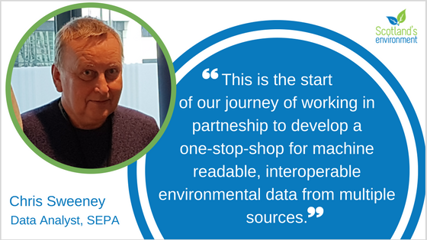 Chris's work in SEPA involves developing and maintaining databases for internal business applications that collate and make available compliance and licencing data for assessment and decision making. Chris also deals with environmental data reporting to Europe (e.g. for the Water Framework Directive, bathing waters) using XML feeds that provide data in a standardised geographic format. This made him the ideal candidate to help Scotland's environment web get its data structure in order using innovative linked data structures.
Chris says:
"Linked data is a concept introduced by Tim Berners-Lee back in 2006. Seeing as his last invention idea turned out pretty well [the internet], I thought this was something worth looking at more closely.
Scotland's environment web was the perfect candidate to apply linked data – an innovative project, drawing in and combining data in different formats from multiple sources, supporting open data strategy and the open re-use of data by others.
Our aim was to build and publish a metadata catalogue of all data sets used by Scotland's environment web, providing a centralised data management structure for our data applications and other data users (e.g. environmental data reporting to the European Commission, Scottish and UK Government, environmental indicator reporting at national and local level, and third party application developers).
The initial development has focussed on consolidating the Web Map Service spatial data that is used by the Scotland's environment web map tool; developing a linked data store so that each data set viewed or accessed on Scotland's environment web is given:
a unique identifier (URI);
a consistent linking structure to define relationships and properties (using RDF data model) e.g. <subject> <predicate> <object>;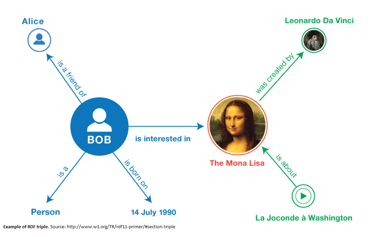 a standardised metadata catalogue structure, using internationally recognised vocabulary (DCAT) which defines:
- dcat:Catalog - the catalog;
- dcat:Dataset - a dataset in a catalog;
- dcat:Distribution - an accessible form of a dataset e.g. a downloadable file, an RSS feed or a web service that provides the data.
- dcat:CatalogRecord - the record that describes a dataset in the catalog.
a GEMET (General Multilingual Environmental Thesaurus) theme to provide a common indexing term that is translatable across many languages, that helps users to find and retrieve data on an environmental topic.
The added value of the Scotland's environment data catalogue, is the publication of our partners data in a 5* open data API (Application Processing Interface) format. This makes the data much quicker and easier for data applications, other data users and third party developers to re-use, than just having access to the raw data.
If we had developed the Scotland's environment web data catalogue using a more traditional database, the data would not be openly available for multiple re-use.
This is the start of our journey of working in partnership to develop a one stop shop for machine readable, interoperable environmental data from multiple sources.
For anyone interested in viewing the data catalogue API's and further technical information on how it has been developed, go to our linked data page.
There is so much more data that we could be providing access to, with more underlying data sets to the map layers that are currently available on Scotland's environment web. As Tim Berners-Lee says in his TED talk "There is so much unlocked potential in data. The more things you have to connect different data, the more powerful it is".
Want to know more about linked data?
Read Tim Berners-Lee's first published article on linked data (2006).
Watch Tim Berners-Lee's TED talk on linked data.
View the Linking Open Data (LOD) cloud diagram 2017, by Andrejs Abele, John P. McCrae, Paul Buitelaar, Anja Jentzsch and Richard Cyganiak, showing the increasing number of datasets thathave been published in linked data format.
---
Adobe Acrobat Reader is the free, trusted leader for reliably viewing, annotating and signing PDFs.
Download Adobe Acrobat Reader