The NBN Atlas Scotland is a free online tool that educates and informs people about Scotland's natural world. It helps to improve biodiversity knowledge, opens up research possibilities and is changing the way environmental management is carried out, not only in Scotland, but across the UK.
Mandy Henshall, NBN Atlas Scotland
December 12, 2017
The NBN Atlas Scotland's innovative approach combines multiple sources of information about species and habitats, and the ability to interrogate, combine, and analyse these data – in a single location – which has not been done before, on this scale.
What is it and how does it work?
The NBN Atlas Scotland, launched on 1 April 2017, is based on the Atlas of Living Australia infrastructure. The National Biodiversity Network (NBN), a registered charity that has been championing the sharing of biological data in the UK since 2000, has taken this open source platform, redesigned and remastered it in response to stakeholder needs, and created an incredibly powerful, bespoke system.
NBN Atlas Scotland allows users to interrogate species records, habitat information and geographical boundaries, and to use extremely powerful mapping tools through a single portal. It is also simple to interrogate your own biological records and habitat information, either in isolation or combined with additional information from the online database, and to download and export maps and reports or summaries for your own use.
As the Atlas of Living Australia platform is open source, many other countries around the world are using the same system. This makes the UK's biodiversity data compatible with other countries' biodiversity data and allows users to compare and share data globally.
Data Partners
The NBN Atlas Scotland would not exist without its data partners and they are all promoted on the website. These data partner pages can help to link up groups who are working on similar projects, or help enthusiastic amateur biological recorders find local groups or recording schemes in their area.
High quality data
The way records on the NBN Atlas Scotland can be used is determined by the licence applied by the data partner. Some records are completely open for use; others are for non-commercial use only, but all can be viewed without restriction, except for sensitive species.
This means that high quality data can be shared, analysed and used for research and other purposes and the NBN Atlas provides an evidence base for environmental decision making.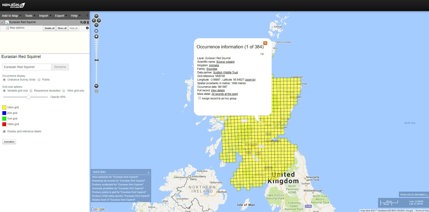 NBN Atlases
Separate Atlases for the other countries of the UK are being developed, with NBN Atlas Wales and an overarching NBN Atlas, already online. The NBN Atlas Scotland played a vital role in the development of these other Atlases as the 'Atlas of Living Scotland' launched as a pilot project in May 2016. It was then re-launched as the NBN Atlas Scotland when the NBN Atlas was launched on 1 April 2017. Funding and support for this was generously provided by Scottish Natural Heritage (SNH), Scottish Environment Protection Agency (SEPA) and Scotland's environment web.
The NBN Atlas Scotland is proud to be 'part of Scotland's environment' and its network of trusted and authoritative sources of environmental, data and information.
Visit the NBN Atlas Scotland to find out more about Scotland's natural world.
---
Adobe Acrobat Reader is the free, trusted leader for reliably viewing, annotating and signing PDFs.
Download Adobe Acrobat Reader