The world wide web has revolutionised how we communicate, find and use information and data.  In celebration of the launch of the world wide web twenty-seven years ago on 23rd August, this is the second of a two part blog that is shining a light on the web team that brought Scotland's environment web to life.
Scotland's environment web
August 23, 2018
None of what you see today on Scotland's environment web would have been possible without the SEPA web team.  As part of our own celebration of the world wide web, here is the second of blogs that shine the spotlight on the web team responsible for Scotland's shared environmental hub for information and data.
Meet the team...
Linda Gallagher was another chemist by trade who spent her early years working in the oil industry.  As a result of the .com boom, Linda decided on a different path and took an IT course, working for an IT company undertaking training on how to use computers that were increasingly becoming an integral part of every office environment. Following a masters in computing at Heriot Watt University, which included .NET training, Linda moved into building websites. 
Linda is an invaluable resource to the Scotland's environment web team as technical author.  She is a conduit and translator between the ideas from the business (workstream leaders, policy officers and scientists) and the more technical development work of the web team. 
Joanna Muse, project manager of Scotland's environment web says
"It's been really important to have someone who is well versed in web development to work closely with and advise on the practicalities of turning ideas into products – and to keep the project team in check with what is practicable and deliverable".  
Linda has also been able to put her University studies into action by getting involved in Scotland's environment web latest rebuild that is founded on a strong base of user research and usability testing.
Linda says
"Traditionally, developers were asked to just launch into designing and building a website without giving enough time and thought about what the product is, who it is for, what purpose does it serve and how will users interact with it.  At the end of the LIFE funded project, the Scotland's environment web team stopped, took a break and re-evaluated. It was great to be part of a multi-disciplinary team that spent three months profiling users, understanding their information needs.  Using online software that tracks how users click through a website to find information, we could see how users were struggling to find what they were looking for. Through user research, usability testing and sense-making, we have significantly simplified the user experience of searching and finding information."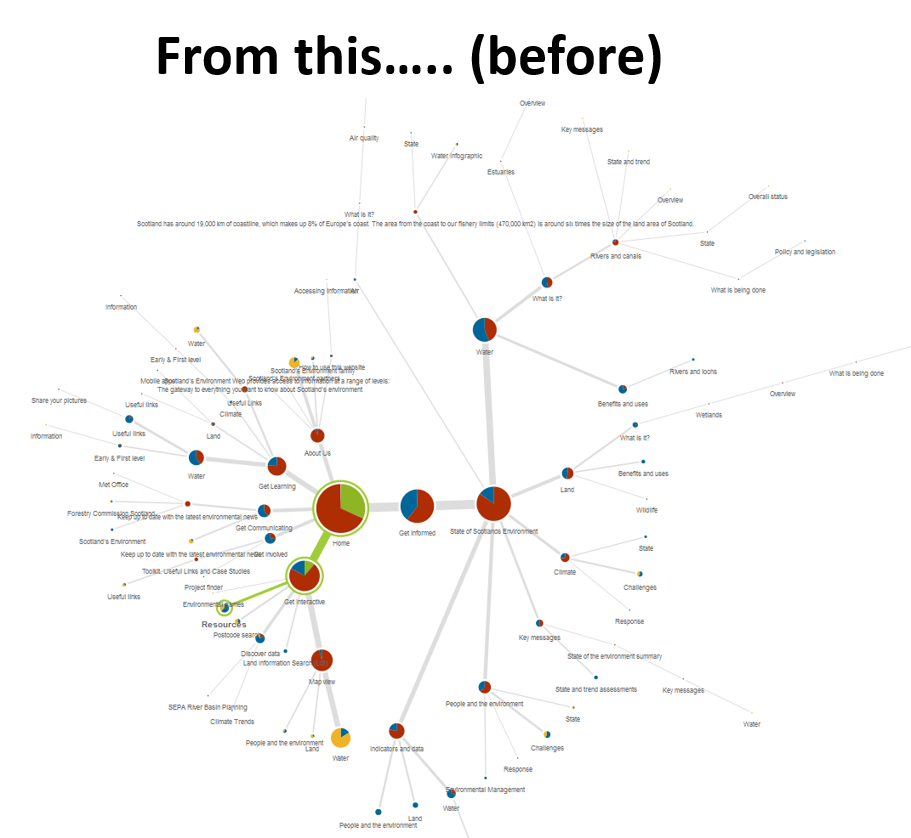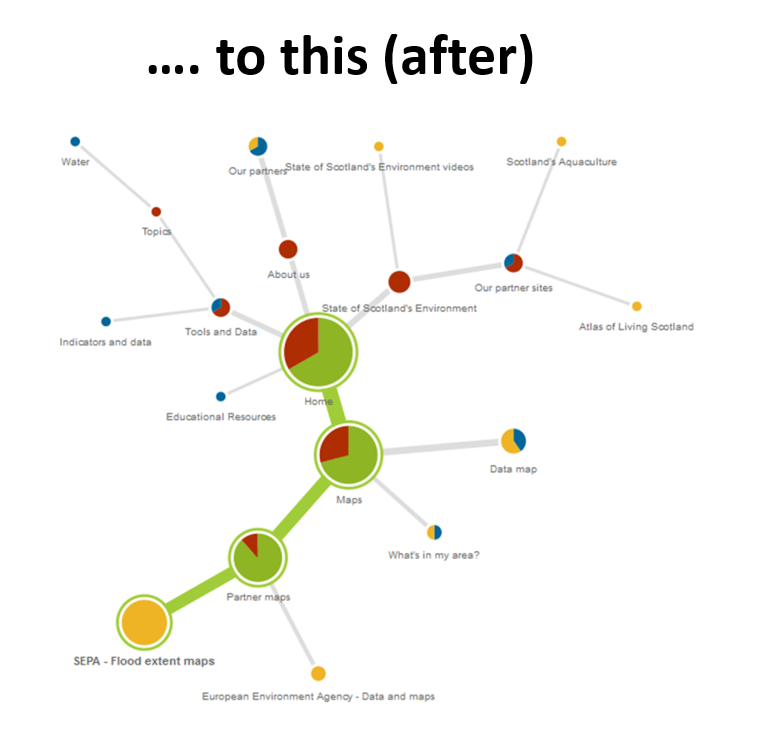 Scott added
"Scotland's environment and Scotland's soils websites were trailblazers in SEPA in this user/usability focussed approach to web development."
Leeann Burzynski studied for a BSc at Napier, covering a wide range of topics including multi-media technology, graphics, web development, photography and video.  After university, Leeann spent some time working with small businesses who wanted help with developing their own websites. It is the front-end design element of a website that has always been Leeann's main area of interest and her expertise in this area has resulted in the significant overhaul in design of Scotland's environment and Scotland's soils websites during her six years in SEPA.
User research and visioning in 2012 for the future of Scotland's environment website provided early insight into the rapid increase in the use of mobile devices to access the world wide web and view online information. Using the new open source Umbraco software meant that Scotland's environment web was the first SEPA web product to be mobile responsive. 
Leeann has been integral to the transition towards a mobile responsive website.  Her expertise in this area has been self-taught and she is now considered one of SEPA's in-house experts.  Working on Scotland's environment web provided the opportunity to learn and innovate, taking time to build it, break it and fix it – to really understand how it all works.
Leeann says
"One of the biggest challenges for a web designer by far is keeping up with the constant changes in web browers and device operating systems used to access Scotland's environment website. Any changes made to templates, design, and content needs to be assessed against these ongoing changes to ensure design standards are retained and the pages remain accessible to the user.
When designing web pages, placing images and formatting content for mobile responsiveness, you always have to have in your mind how it will look when it is shrunk down in size - and there are many different screen sizes across many different mobile devices that will have different mobile response design requirements."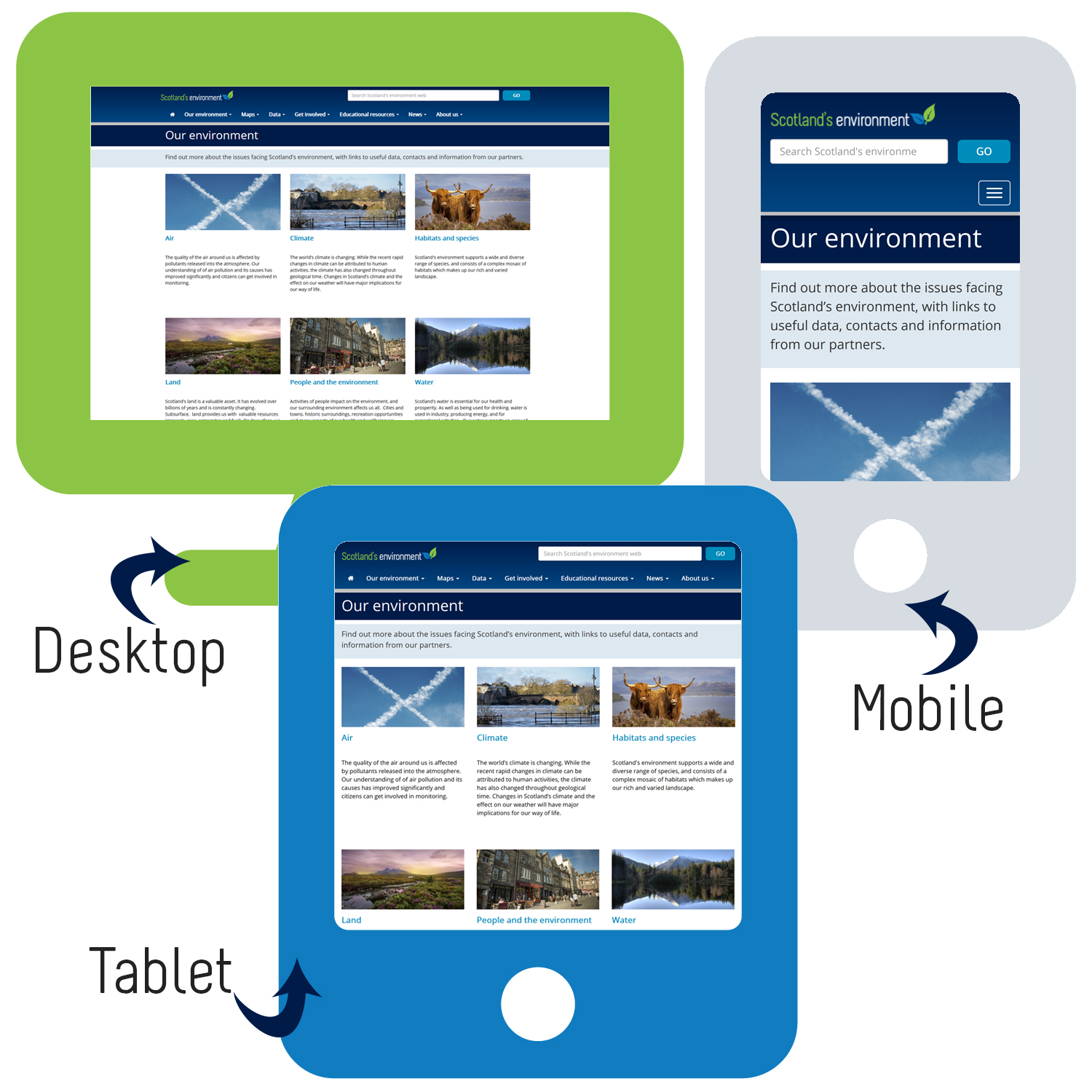 The table below provides a flavour of the different variations in how users access Scotland's environment web - January to July 2018.
| | | |
| --- | --- | --- |
| Browsers | Operating systems | Screen sizes |
| Chrome | Windows | 1920 x 1080 |
| Internet Explorer | iOS | 1024 x 768 |
| Safari | Macintosh | 1366 x 768 |
| Firefox | Android | 1680 x 1050 |
| Edge | Linux | 1536 x 864 |
| Opera | Chrome OS | 1280 x 1024 |
| Samsung Internet | Blackberry | 1600 x 900 |
| Android Webview | Blackberry | 1440 x 900 |
| Amazon Silk | FreeBSD | 768 x 1024 |
|   |   | 360 x 640 |
Working in partnership
Scotland's environment web has been about bringing different people with different skills and knowledge together to innovate and try new things, and push boundaries of new technology. The web team have been an equal partner and along with other Scotland's environment team members, they have been involved throughout the whole agile development pipeline  – from generating ideas, producing wireframes and prototypes, usability testing and sense making, through to development, and promotion.  The web team feel like they have an invested share in a product they really care about.
End Note: Taking Scott's analogy of a well-structured web site, the same can be applied to a team of many different skills, experiences and perspectives – it is only as good as the sum of the parts.  Whilst this blog features the members of the SEPA web team who have predominantly been working on the development of Scotland's environment web over the years, we also want to take this opportunity to recognise the work of the other valued members of the team - Marco Vezzani and Paul Huzzard.
So on this month that celebrates the launch of the world wide web, Scotland's environment web, says thank-you to the web team who have brought it to life.
---
Adobe Acrobat Reader is the free, trusted leader for reliably viewing, annotating and signing PDFs.
Download Adobe Acrobat Reader