This is the first in series of blogs about our all-important partners. Scotland's environment web is the product of an innovative partnership between some of Scotland's leading environmental organisations. But who are they? Why are they part of the Scotland's environment collaboration? And what do they get out of it?
This first blog features the Scottish Environment Protection Agency (SEPA), the organisation responsible for managing, maintaining and further developing Scotland's environment web.
Scotland's environment web
October 12, 2017
SEPA has a long standing history with Scotland's environment web and was the initiator of the application of funding to the European LIFE programme to develop the online gateway to environmental information and data.
Since the Environment Act 1995, SEPA has been the driving force behind the preparation of a number of State of Environment reports for Scotland. In 2010, SEPA was preparing its first multi-agency online state of the environment report, written in partnership with environmental experts and organisations with responsibility for protecting and improving the environment – this web resource was branded as Scotland's environment web.
When it was announced that SEPA's very first application for LIFE funding was a success, the organisation provided match-funding to the multi-million pound, four year innovation project. This resource, along with the European funds and additional contributions from other partners, allowed for the creation of a multi-disciplinary team, procurement of digital technologies to build new data applications and web tools, and bring in new skills and expertise to the partnership that enabled the project to innovate in areas where SEPA or any of our partners hadn't previously had capacity.
SEPA's role in delivering the Scotland's environment web LIFE project was rewarded in 2016 when it received the accolades of:
one of the top 24 Best LIFE Environment Projects, out of 113 that finished in 2015, and more impressively, one of the top five 'Best of the Best' projects;
the Holyrood ICT Project Delivery award.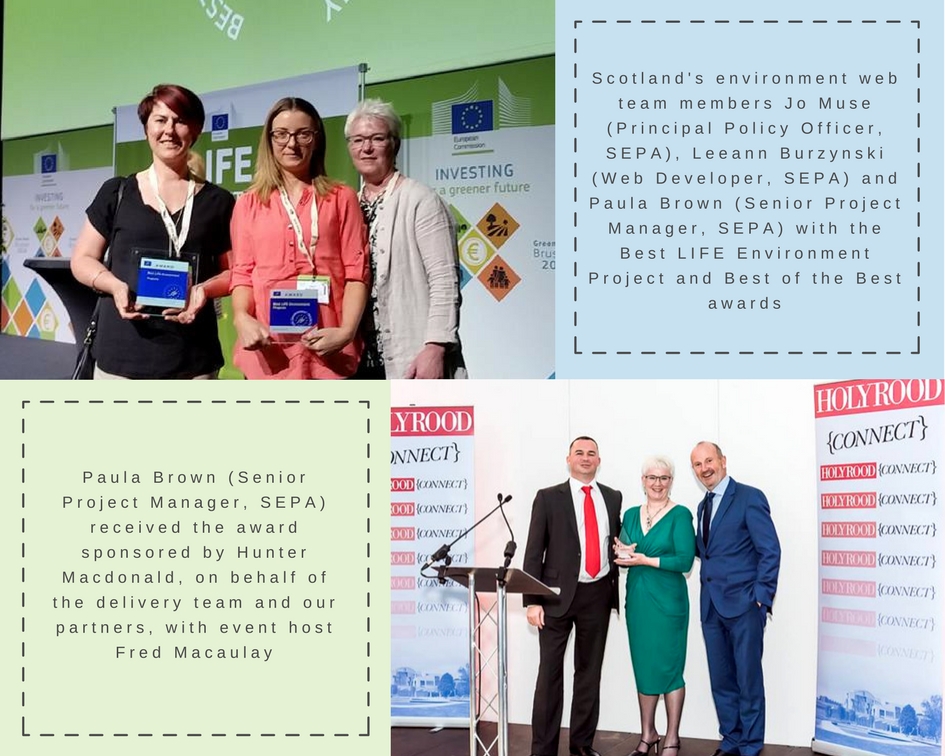 On the successful conclusion of the LIFE funded project, SEPA was keen to ensure its significant investment, along with contributions from partners, was secured for the longer term so that Scotland's environment web could continue to realise long lasting benefits for Scotland's public sector, communities, environment and economy.
In 2015, SEPA's agency management team saw the longer term potential of Scotland's environment web and secured an ongoing development resource to manage and maintain this valuable online resource and continue to work with partners; delivering in collaboration more than we can provide as individuals.
Scotland's environment web is now viewed as a key mechanism to help deliver SEPA's corporate priorities:
"By developing Scotland's environment web, we want to help businesses and communities find accurate and up-to-date information about Scotland's environment and the issues that matter to them." Our digital future (SEPA digital strategy)
The role of Scotland's environment web in providing access to data for decision making. "If we want people to understand the social and economic benefits they can get from a healthy environment, then we must provide compelling evidence and data." Information and evidence strategy (SEPA)
SEPA's organisational characteristics: (1) Producing information and evidence that people use to make decisions; (6) Using partnerships as our principal way of delivering outcomes.
David Pirie, Executive Director (Evidence and Flooding) at SEPA, and responsible for overseeing the project says of Scotland's environment web, says: "It has been a flagship digital initiative that has led the collaborative development of new digital data visualisation and mapping tools, providing a one-stop-shop about Scotland's environment. The creation of this valuable resource is an achievement that SEPA is extremely proud of. It is a powerful tool to improve our intelligence about issues affecting Scotland's environment and help us to promote information in new ways that excite and encourage people to get involved".
Watch this space for more insights into our valued partners.
---
Adobe Acrobat Reader is the free, trusted leader for reliably viewing, annotating and signing PDFs.
Download Adobe Acrobat Reader