In our next instalment of our Mapvember blog series, we're continuing to get to know the people who work behind the scenes to develop and maintain the Scotland's environment mapping tools and are responsible for our spatial data. In this post we meet Olivia Gill, GIS developer, and Linda Gallagher, Technical Author.
Scotland's environment web
November 23, 2017
Olivia Gill, GIS Developer
Over the last five years, the number of spatial data resources that users can access and view on Scotland's environment website has been growing. Olivia has been a key part of the team that made this happen. As well as working with our data partners on the spatial data they already publish, she has identified new datasets that would be of interest to a wider range of users that could also be published, advised on metadata standards, and contributed to the development of mapping applications that turn spatial data from different sources into tools for users to search and view environmental data in their area. Olivia was responsible for managing and tracking the different data sets that Scotland's environment harvests for the map based applications, applying updates that our partners informed us of and maintaining our map applications.
Olivia has also been a key player in developing the new linked data management structure for spatial data consumed by the Scotland's environment map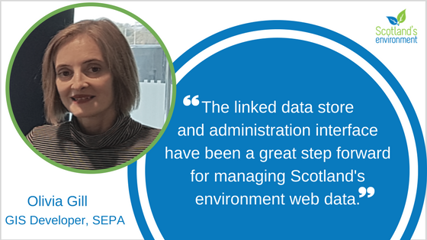 Olivia says:
"As the Scottish Government's open data strategy started to take effect, the amount of data consumed by Scotland's environment web grew. It was time for us to consider a more robust and controlled system for consolidating, managing and updating Scotland's environment web data.
Having such an in-depth knowledge of the data consumed by the map, I was able to work closely with Chris on the development of the linked data store to ensure it met Scotland's environment web needs. For each of the 200+ spatial data sets that we harvest from SSDI (Scottish Spatial Data Infrastructure) Metadata Portal, I had to map the spatial data metadata (information about the data) to the most relevant DCat categories (e.g. title, description, keywords, format, media type).
We are able to customise and incorporate additional metadata categories that enable flexibility for the data management infrastructure to support other data applications. In this instance we have added categories such as 'application' and 'task'. These will allow users to view which data applications the data set they are interested in can be viewed on. And we are now piloting the identification of data recommended for use in certain tasks that require the use of environmental data, such as strategic environmental assessment.
Once we had the linked data store structure established, we still needed to develop an administration interface to control and manage the input of data into the linked data store. This required us to bring in additional help and development skills. I worked closely with the contractor on the development of the web-based application that connects the administration interface to the linked data store with an intermediate database and web API, while ensuring it was designed with the Scotland's environment web data administrator use case in mind.
The linked data store and administration interface has been a great step forward for managing Scotland's environment web data (reducing effort and time in managing spatial data by around 70%) but it is still a very manual process that relies on us being informed of data updates and changes by our partners.
In the future, I would like to work with our partners on developing APIs to streamline the data that we harvest, reducing the manual input effort into the system and ensuring our users can be confident that they are viewing the most up to date data that has been published.
Of all the data that is available to view on Scotland's environment map tool, my favourite data layers are those about the built environment, such as listed buildings and scheduled monuments. This aspect of our environment is just as important as biodiversity, nature and habitats, but often gets overlooked."
Linda Gallagher, Technical Author
Linda is Scotland's environment web Technical Author and has the extremely important role of co-ordinating, assigning and tracking development activities for the website and data applications. Linda also has responsibility for the input and maintenance of the 200+ data sets into the linked data triple store, and the information that you ultimately see about the data layers on the Scotland's environment map.
Linda's aim is to provide users with meaningful information about the map data by extracting key pieces of information from the metadata published by our partners on SSDI and within their web map service.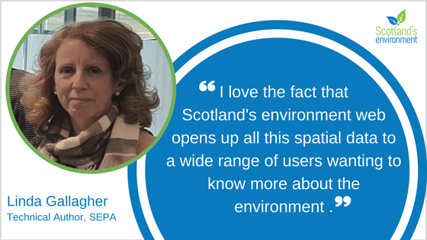 Linda says:
"Pulling in data from different sources means dealing with variations in metadata provided with the data, some of it very complex. Not having a technical GIS background means it can be difficult to identify the most relevant information about the data that our users will need. But equally, it means I can identify information that a non-technical user would find useful.
As a result of our strong partnership, we have a forum to work with data publishers to improve the information we provide on the Scotland's environment map tool about the spatial data that users are viewing, which helps make it more meaningful to a wider audience.
We are just starting out on our data journey with the web map services that feed the map tool, but in the future we will be looking at adding web service spatial data that will feed more detailed analysis and querying tools, such as the Land Information Search.
I love the fact that Scotland's environment web opens up all of this spatial data to a wide range of users wanting to know more about the environment around them, giving the user control over the data they want to view and interact with.
My favourite new function of the new Scotland's environment map is the share function – creating a url of the data view and geographic extent.
I'm constantly surprised by the different types of data that you can view on Scotland's environment map tool. I recently read in an AA driving advice bulletin, that twice a year - in May-June and October-November - there's an increased chance of deer running into the road. Did you know that you can view data about that - the deer vehicle collision data, which is published by Scottish Natural Heritage - on Scotland's environment map tool?"
---
Adobe Acrobat Reader is the free, trusted leader for reliably viewing, annotating and signing PDFs.
Download Adobe Acrobat Reader