Yesterday was world water day and this year's theme was "The answer is in nature" – exploring nature-based solutions to water challenges we face such as flooding and water pollution.
Scotland's environment web
March 23, 2018
Scotland has a rich and varied water environment, but other aspects of our environment have an important role to play in addressing some key challenges we face.  You can find information and data about the water environment on Scotland's environment web.
You cannot manage what you do not measure
Just as you cannot manage your bank account without knowing how much money you have, it is impossible to make informed decisions without reliable, up-to-date, and accessible data. Goal 6 of the 17 Sustainable Development Goals (to be achieved by 2030) focuses on the global water challenge & includes measurable indicators of progress. Scotland's environment website has a wealth of information and data about water to help report on the state of our water environment and make informed decisions.  Our environment has two topics on freshwater and seas. In these pages you can find headline messages about the water environment, summary data views with links to full data analysis applications, policy and legislation driving change in the water environment and information on what we are doing to protect it.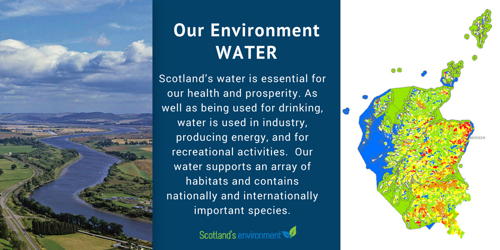 Scotland's environment map has a wealth of water theme spatial data, published by partner organisations including SEPA, NatureScot, British Geological Survey, Scottish Government, and CEH. View a selection of water theme spatial data on our map.
Wetlands are vital for human survival
They are among the world's most productive environments - cradles of biological diversity that provide the water and productivity upon which countless species of plants and animals depend for survival. In celebration of the World Water Day, the Ramsar Convention launch an infographic 'the 7 Wetlands Benefits'.
Scotland's wetlands are home to a wide range of plants and animals. They also provide important environmental functions, such as storing carbon and sustaining the supply of clean water. Find out more in the Our environment – Wetlands section of Scotland's environment website and view wetlands data the map.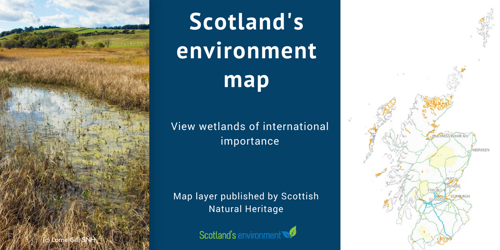 Scotland's soils
Don't forget to spare a thought for Scotland's soils – not only do soils grow food and store carbon, but they play an important role in filtering water & reducing flood risk. Find out more on Scotland's soils website where you can view soil data on maps; read further information resources for agriculture, forests and woodlands, peatland restoration, planners and developers and education;  and find out more about our soils.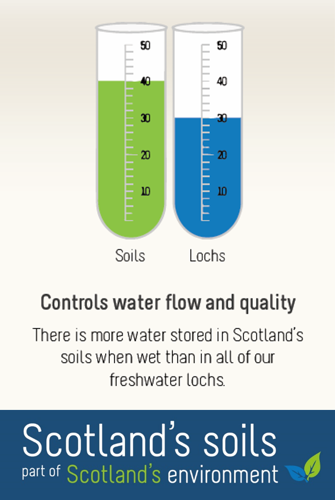 ---
Adobe Acrobat Reader is the free, trusted leader for reliably viewing, annotating and signing PDFs.
Download Adobe Acrobat Reader