The aim of this strategy is to identify and deliver Scotland's current and future waste data needs.
Topic sections
Waste data is essential for knowing what waste is produced in Scotland, and how and where it is managed. As Scotland moves towards a more circular economy – where products and materials are kept in high value use for as long as possible – this latest waste data strategy outlines five priority actions being taken to improve our understanding of how products and materials flow through our economy.
Read our action plan for the waste data strategy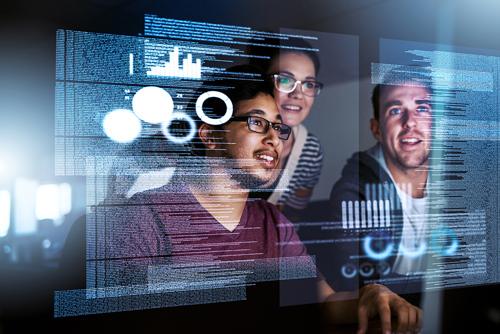 Download the Waste data strategy action plan (Excel) - published November 2018, Version 1.0
Watch our video about the strategy
Scotland's latest strategy for improving waste data aims to deliver more reliable, timely and relevant waste data for Scotland and help improve our understanding of how waste materials flow through the economy. This will be achieved by streamlining systems and processes, embracing digital solutions and adopting strong partnership working.
Read the waste data strategy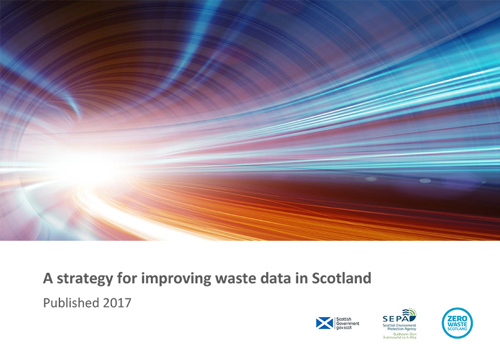 News
Updates on waste data developments, changes that are happening, success stories and events
27 January 2020
The next phase of the smart waste tracking project is underway with two companies, Anthesis and Topolytics, having received GovTech funding of up to £500,000 each to develop a prototype digital waste tracking service over the 12month period November 2019 to October 2020. We are keen for businesses to help shape waste tracking to ensure that it meets their needs by joining our user panel which will provide the opportunity to take part in user research and test software as it is developed.The majority of user panel activity will take place online, via email or in the workplace and signing up does not commit businesses to anything.
Sign up to join the waste tracking user panel here.
You can also sign up for our newsletter here or via the user panel link.
13 May 2019
Read the latest blog from Defra digital about making progress towards developing innovative solutions for tracking waste. Read more about the history of the project so far and where it will go next. Watch the 'show and tell' presentations from the five companies who took part in the first phase of the GovTech Catalyst Challenge which has just completed.
4 Apr 2019
Laura Gillan from SEPA outlines how waste data is collected and used by competent authorities to help them regulate waste shipments under the European Waste Shipment Regulation.
20 Feb 2019
Our second practitioners' workshop was a chance to hear progress on the action plan and feed into the waste tracking project. Find out what happened.
19 Feb 2019
SEPA and the Scottish Government are partners in the UK Waste Tracking project, which was recently selected for GovTech Catalyst Challenge funding to develop innovative digital solutions to track waste through the economy. As part of this, five companies working across the UK have been awarded up to £80,000 each to tackle the challenge of tracking waste from its source through to treatment and final disposal. Learn more about the companies and the solutions they are developing.
4 July 2018
View this updated interactive tool to access, visualise and extract information about waste management sites in Scotland that are regulated by SEPA.
23 May 2018
From 1 January 2021, landfill operators in Scotland will be prohibited from accepting Biodegradable Municipal Waste (BMW) for disposal at the landfill. This guidance provides information on the ban and how it will be implemented.
19 Mar 2018
To find out how much waste is produced and managed in the UK read Defra's latest Statistics on Waste report, which includes waste data that is reported to SEPA.
08 Mar 2018
Partnership working and engagement is at the heart of the waste data strategy. Find out what happened at the first practitioner workshop.
13 Feb 2018
Tracking waste is crucial to improving waste management. To find out more read the Defra Digital blog about the current discovery work.
26 Feb 2018
Naomi Ross from SEPA explains more about what's involved once your waste is collected for recycling, the cycle of waste and how you can help improve the quality of recycled materials.
9 Oct 2017
Blog from Gillian Flint, Scientist in SEPA's Data Unit, on the launch of A strategy for improving waste data in Scotland and what it means for Scotland.
Events
Waste data practitioners' meeting: 25th February 2021
The WDS Board hosted a fourth waste data practitioners' event on 25th February 2021, which was held online for the first time. Over 20 people joined the event and heard updates on strategy actions from Zero Waste Scotland and the Scottish Environment Protection Agency and an update on the Data Commons Project from researchers at the University of Stirling. Presentations from the event are given below.
Waste data practitioners' workshop: 12th February 2020
The WDS Board hosted a third waste data practitioners workshop in Perth on 12th February 2020. Over 40 different waste data practitioners from across Scotland attended to hear updates on the strategy's action plan, take part in workshops on waste tracking and open waste data in Scotland, hear about data projects of interest and network with colleagues in the industry. Materials from the day are given below.
Special Waste Consignment Workshops: 21st and 22nd January 2020
SEPA held three half-day workshops in Stirling on January 21st and 22nd for producers, consignors, carriers and brokers to learn how to fill out a special waste consignment note properly. Over 100 people attended over the two days to hear why we need reliable data on special waste and how to complete the notes properly to achieve this. The workshops were a mix of theory (presentations) and practice, with attendees working through two scenarios to understand how a SWCN should be filled out clearly and accurately so that everyone involved can follow the chain of custody and comply with their Duty of Care. We received lots of input from attendees over the two days and are now progressing several actions to try and further improve the process of completing and submitting SWCNs.
SWCN workshop: Agenda and slides from the day
Scenarios 1 and 2:
Scenario answers:
Waste data practitioners' group: 30 January 2019
The second waste data practitioners workshop was held in Perth on 30th January 2019. Over 60 different waste data practitioners from across Scotland attended to hear updates on the strategy's action plan and take part in a workshop on waste tracking.
Waste data practitioners' group: 24 November 2017
The first waste data practitioners workshop was held in Edinburgh on 24th November 2017. Over 20 different waste data practitioners from across Scotland worked in small focus groups to discuss what needed to be done to achieve the five strategy actions. The outcomes were used to help develop an action plan to implement the waste data strategy.
Case studies
Case studies of how waste data has been used to inform the management of waste and materials and increase our understanding of the economic, environmental and social impacts of waste.
If you would like to submit a case study to this list please contact wastedatastrategy@sepa.org.uk
Data
National waste data is regularly reported to the Scottish Government and European Union. This data, from household, commercial and industrial sources, provides information on what waste is produced in Scotland and how and where it is managed.
Extracts of this information are shown on the waste and resources page and the full data analysis is available in the Discover tools for waste from all sources, for household waste, and recyclate quality. There is also waste management site level information in the waste sites tool.
Guidance
The following guidance and tools are available for local authorities who are required to submit data via the online reporting system called WasteDataFlow:
The following guidance is available for operators of waste management sites and exempt activities who are required to submit waste data returns to SEPA:
Delivery
Scotland's waste data strategy delivery
Implementation and management of the strategy is overseen by a project board which is made up of representatives from The Scottish Government, Scottish Environment Protection Agency (SEPA) and Zero Waste Scotland:
| | | |
| --- | --- | --- |
| John Landrock | Environment Statistician | The Scottish Government |
| Phil Williams | Research Analyst | Zero Waste Scotland |
| Michael Lenaghan | Environmental Analyst | Zero Waste Scotland |
| Cindy Lee | Waste Data Strategy Manager | SEPA |
| Andrew Sullivan | Principal Policy Officer | SEPA |
| Ingrid Baber | Data Unit Manager | SEPA |
| Julie Laing | Senior Scientist (Data Unit) | SEPA |
| Jill Kelly | Senior Admin Officer | SEPA |
---
This page was updated on 25 Feb 2020
Adobe Acrobat Reader is the free, trusted leader for reliably viewing, annotating and signing PDFs.
Download Adobe Acrobat Reader